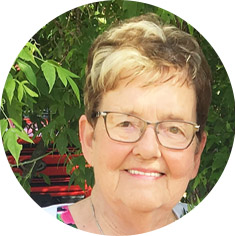 Myrtle Marie (Lutz) Hennenfent
Myrtle Marie (Lutz) Hennenfent passed away peacefully on June 16, 2020 after spending time with each of her children. She was born on January 26, 1942 in Fort Qu'Appelle, Saskatchewan. Moving with her family in 1949 from Duff to Boharm, she attended school at Boharm and business school at Tech in Moose Jaw. At 17, she moved to Rowletta and worked for the Rodgers family where she met and fell in love with the R.M. grader operator, Ron Hennenfent. She would tell the story of how she had clean laundry on the clothesline and he would come through town making a big dust. They were married on October 23, 1959. Together they built their home on the family farm near Rowletta and resided there for the remainder of their lives. They started married life together working the farm and formed R&M Poultry Farm in 1972. After retiring from the poultry business, Mom began working as a cook at Briercrest Bible College in 1989 and continued for 11 years. She was actively involved in events at the Rowletta Civic Centre, where their wedding dance was the first of many held there. Her homemade buns will be missed at the Fall Suppers that are still held. The happiest moments of her life involved Mom having the family together for suppers and celebrations. It was important to her that everyone had a place at the table often having as many as 45 chairs! She also enjoyed needlework, reading, following the Toronto Blue Jays, and was an avid curling fan. She had always made sure herself and her children stayed busy. The last few years Myrtle was able to fulfill her desire to travel. She visited family in Edmonton, Lethbridge, and Victoria, as well as her childhood dream of visiting the Anne of Green Gables House in Prince Edward Island.
She is predeceased by her husband of 58 years, Ron Hennenfent (2017), and her parents John Lutz (1969) and Edna (Reimer) Lutz (1986). She will be missed by her children: Bonnie and Rick Clubbe, Blaine (Tina), Joe (Aaron), Brian (Lisa) Barnett; Lori and Randy Moysey, Amanda (Tim), John (Ashley), Brett (Kayla), Dustin (Morgan) Moysey; Sandi Hennenfent and Blair Barnett, Teddy, and Dustin (Caroline) Barnett; Shelli and Steve Muhle, Kiel (Brandy), Jacob (Janelle) Carrobourg, Hannah (Clint) Hill;  Rhonda and Kenric Phillips, Taylor, Adrianna Phillips;  Ryan and Dusti Hennenfent, Liam and Faith Bilendy. She had so much love and pride for her grandkids and great grandkids.  Her door was always open with fresh baking on the counter to siblings, extended family, friends, and neighbours. 
A Private Family Service will be held to honour Myrtle's Life.  The family would like to thank the staff at the Dr. F.H Wigmore Regional Hospital, Allan Blair Cancer Clinic, Pasqua Hospital Oncology 3B unit and Memory Lane at Pioneer Lodge for the exceptional care they gave Mom. In lieu of flowers, expressions of sympathy may be made in Myrtle's name to the Regina Cancer Patient Lodge, 4104 Dewdney Ave, Regina SK S4T 1A3.  Arrangements are entrusted to Moose Jaw Funeral Home, 268 Mulberry Lane.  James Murdock, Funeral Director 306-693-4550.