Moose Jaw Funeral Home is locally owned and proudly independent.  Our team of licensed funeral directors have had the privilege of serving Saskatchewan families in their time of need since 2006.
Our Funeral Home offers the most modern facility in all of Moose Jaw and surrounding area, that includes an Indoor Columbarium, ample chapel and comfortable reception facilities for private or public gatherings, complete audio and visual systems throughout all gathering areas and all of our facilities are fully accessible.  We would like to thank the people of Moose Jaw and surrounding areas for making us our community's preferred choice in funeral services.
We take this responsibility with the deepest honour.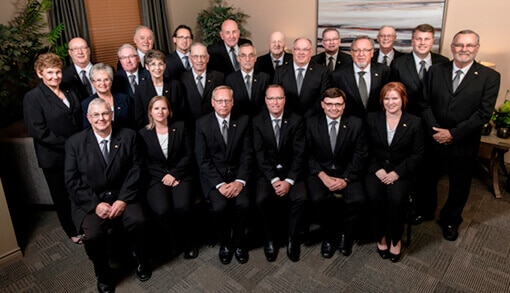 Each member at Moose Jaw Funeral Home takes great pride in providing Saskatchewan families with exceptional care and attention. We aim to provide an experience that will honour your loved ones, your friends and your family in the most comfortable setting possible.  The excellent service, knowledge and extra care in each of our staff members is what makes us successful and Moose Jaw's preferred choice.  We proudly welcome you to visit Moose Jaw Funeral Home to meet our staff and experience our pristine facilities.
Many people are now looking to pre-plan their funerals so family members will not have to make stressful decisions nor wonder what was desired in terms of arrangements.
Pre-planning can be as simple as recording wishes on paper or setting aside the funding necessary to look after funeral expenses.
We are proud to offer Purple Shield pre-planning services.

The staff at Moose Jaw Funeral Home has served our family well in the losses we have already experienced.  We are pleased with our selection of their service.
R & G. Haukaas
The Moose Jaw Funeral Home staff was amazing, they carried out our dad's wishes and cared for us like we were their family.
L. Gummeson
We did not have to second guess mom's wishes.  Access to her plan ensured we weren't emotionally drained.
J&P Murphy