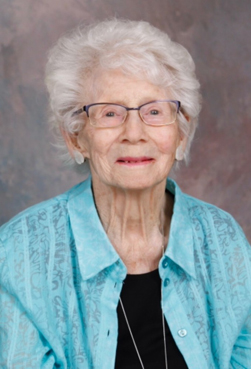 VERNA GERTRUDE ZIMMERMAN (née: Barry)
It is with profound sadness we announce the passing of Verna Gertrude Zimmerman on Wednesday, July 1st, 2020 at the age of 100 years.  Verna passed away peacefully at Chez Nous Senior Citizens Home in Moose Jaw, SK, where she resided.  
A Memorial Service will be held on Thursday, May 26th, 2022 at 2:00 p.m. in Zion United Church, 423 Main St N, Moose Jaw, SK.  Reverend Tim Ellis will officiate and interment will take place in Sunset Cemetery.
We ask that in lieu of flowers, memorial tributes may be made to the Moose Jaw Women's Shelter or Women's Causes of your choice.  Verna was always an active advocate of women's rights and protection.  Also, donations may be made to the Moose Jaw Public Library, 461 Langdon Crescent, Moose Jaw, SK S6H 0X6.
Arrangements are entrusted to Moose Jaw Funeral Home, 268 Mulberry Lane.  Andrew Pratt Funeral Director 306-693-4550