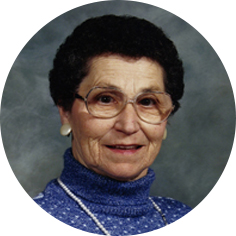 ZIMBOWSKI, MARIA (MARY) née Wiesinger
Mary passed away peacefully on Wednesday, December 20th, 2017 at Extendicare in Moose Jaw, SK.  Mary was born in Sarleinsbach, Austria on February 16th, 1928.  She was predeceased by her husband, Ed and daughter-in-law, Jan.  Mary will be lovingly remembered by her children: Annie (Jim), Joe (Karen), and Dennis; grandchildren: Kim (Mike), Kyla, Brian (Melissa), Heath, Bralen, and Teagan; and great-grandchildren: Aleandro, Morley, Savanna, Blithe, and Mirabelle.  Mary came to Canada in 1952 to join her husband in Kindersley, SK.  They later moved to Moose Jaw where Mary worked at the 722 Café and the CO-OP restaurant, where she had many friends.  Mary made several trips back to her home country of Austria to visit family and friends.  She loved working in her garden, playing cards, and going for nice long walks with her dogs.  Mary had a heart of gold and was a willing helping hand to friends and neighbors.  She was famous for her Perogies, Cabbage Rolls, and pies.  The family would like to thank the staff at Extendicare for their loving care for Mom during her stay there.  Mom's dementia did not stop her from having an infectious smile and laughter that affected everyone around her.  A private family interment will be held in Sunset Cemetery at a later date.  As an expression of sympathy, donations in Mary's name may be made to the Alzheimer Association of Saskatchewan, 301 – 2550 – 12th Ave, Regina, SK S4P 3X1 or The Moose Jaw Humane Society, Box 1658 Station Main, Moose Jaw, SK S6H 7K7.  Arrangements are entrusted to Moose Jaw Funeral Home, 268 Mulberry Lane.  Calvin Gammel, Funeral Director 306-693-4550
You were always there when we needed you
No task too great or small.
With a loving heart and willing hand
For us you did them all.
Thanks for the years you gave us
And for the time we shared
We only pray that when you left us
You knew how much we cared.
God saw you getting tired
When a cure was not to be
He put His arms around you
And said "Come unto Me".
You didn't deserve what you went through
So God gave you a rest
His garden must be beautiful
For He only takes the best.