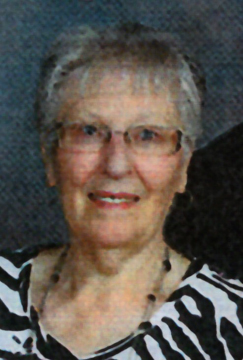 February 19th, 1936 – August 14th, 2022
Monica Veronica Zerff, aged 86 years of Moose Jaw, SK passed away on Sunday, August 14th, 2022.  Monica was one of seven children born to Valentine and Elizabeth Scherr.  Born in Allan, SK and raised between Allan and Delisle, SK, she recalled many happy childhood memories with family, friends and neighbors, and enjoyed talking about these with her siblings.  At 18 years of age, Monica travelled to New York with the Bentley family to help care for the children while he played for New York Rangers.  She often spoke about her travels to Harlem, where she tutored youth.  This influenced her decision to attend Saskatchewan Teachers College, graduating in 1959 and spending her early years of teaching in rural schoolhouses. 
On August 4th, 1962 Monica married Raymond Zerff.  They began their married life in Kindersley, SK and welcomed their daughter Melanie in May of 1963, their son Kevin in September 1964, and another daughter, Connie in 1966.  These early years of marriage were busy, with moves to Kindersley, Kerrobert, Humboldt, Watrous and Moose Jaw.  Monica continued her teaching career while supporting Raymond as he began a career with SaskPower.  Monica loved to teach children of all ages and her years spent at Lindale School in Moose Jaw held a special place in her heart.
Monica was talented and creative, and she treated her family to crochet, applique, sewing, and many quilts that she lovingly made.  As her children married and welcomed grandchildren, gifts of handmade quilts were part of every milestone in the lives of those close to her.  Monica enjoyed her quilting groups and the company of other women sharing this interest.  She was not able to attend Quilters Haven in the last few years but spoke fondly of the time spent there and the quilts the groups created.  She continued to contribute as best she could and had Ray drop off "chickens" – handmade pincushions that were a favorite.
Monica loved and cherished her four grandchildren: Ryan and Sara Zerff, and Jacob and Eric Woit.  She cheered them on at dance recitals, basketball, volleyball, hockey, baseball and football, attending games until the fall of 2021.  Every visit, phone call or family celebration brought her joy and she never complained about the chaos.  She was proud of all four grandchildren and in particular, seeing the young adults they have become.
Monica will continue to be loved and remembered by her husband of 60 years, Raymond Zerff; son, Kevin (Darla) Zerff and their children Ryan and Sara; Connie (Mike) Woit and their sons Jacob and Eric; and son-in-law, Barry Pickard.  She is remembered by her sisters, brother, brothers-in-law, sisters-in-laws, as well as many nieces, nephews, cousins and friends. 
Gone before Monica are her daughter, Melanie Pickard; parents, Valentine and Elizabeth Scherr; brothers: Arthur, Daniel and Charles; Raymond's parents, Alexander and Francis Zerff; brothers-in-law, Arnold and Gregor; and sisters-in-law, Shirley and Loretta.
A Celebration of Monica's Life will be held on Monday, August 22nd, 2022 at 11:00 a.m. in Church of Our Lady, 566 Vaughan St, Moose Jaw, SK.  Father Nestor Gregoire will be the presiding celebrant and interment will take place in Rosedale Cemetery.  As an expression of sympathy, the family would love for everyone to pass along random acts of kindness.  Arrangements are entrusted to Moose Jaw Funeral Home, 268 Mulberry Lane.  Michelle Ellis, Funeral Director 306-693-4550