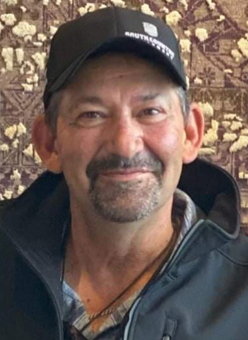 Richard Wayne Zaremba, aged 58 years of Moose Jaw, SK passed away suddenly on Tuesday, February 8th, 2022 in Phoenix, Arizona with his wife Joanne by his side.
Richard was born on March 16th, 1963 and grew up on the family farm just north of Ormiston, SK with his brother Randy.  He attended Spring Valley school where he played volleyball, curling, baseball, and hockey.  Richard also danced Romanian dancing for many years.  After graduation, Richard took a welding course at SIAST.  He bought his own farm in 1989, just south of Spring Valley.  Richard worked hard farming, taking care of his cattle, and raising his 3 children Ashley, Taylor, and Jayden.  In 2004, Richard sold his farm and moved his family just south of Moose Jaw.  Richard did custom swathing and then eventually bought GWP.  He never sat still and you could find him most days in his shop working on a number of projects, whether it was working on a trailer or fixing a baler.  Richard has spent many hours on the road, delivering product all over Saskatchewan.  In the summertime Richard would spend as much time as he could down at his cabin at Palliser Regional Park, where he would always be golfing with family and friends, and cruising around in his golf cart.   
Richard married Joanne in July 2020.  He welcomed Joanne's children and was happy to be called Grandpa Rich by Joanne's grandchildren. 
For all that knew Richard, friendship was the world to him.  He would give the shirt off his back to help a friend in need.  Richard loved entertaining and was a great cook, providing many wonderful feasts.  Not a belly went away empty at the Zaremba house.
After two years of not being able to travel to their winter destination, Richard and Joanne were happy to finally be able to drive down to Yuma, Arizona at the start of the year, where they had just purchased a trailer.  Richard spent the last few weeks enjoying time with Joanne, family and friends.  While in Yuma, Richard purchased a buggy and finally got his teeth back!  The neighbors in the park said they would see him with the biggest smile ever, riding around the park in the little blue buggy.
Richard's daily calls and text's will be missed by one and all.
  Till we meet again my friends,
the beer fridge will always be full.
He was predeceased by his grandparents, Jennie and Sam Andrei, and Dan and Kae Zaremba; and mother-in-law, Betty Thiele.  Richard will be deeply missed by his wife, Joanne; children: Ashley (Kody), Taylor, and Jayden; Joanne's children: Dana (Arlen), Danielle (Robert), and Derek; 5 grandchildren; parents, Steve and Helen; brother, Randy (Lee); sisters-in-law: Gayle (Ted), Lorie (Dave), and Bonnie (John Paul); along with many nieces, nephews, uncles, aunts, and friends. 
Richard's family would like to thank everyone for all the messages, calls, visits, food, flowers, and cards given during this difficult time.
The Funeral Service will be held on Saturday, February 26th, 2022 at 1:00 p.m. in Moose Jaw Funeral Home with Celebrant Dave Foley officiating.  Those not able to attend are invited to watch the service virtually by going to www.moosejawfuneralhome.com/webcast/.  Arrangements are entrusted to Moose Jaw Funeral Home, 268 Mulberry Lane.  Todd Sjoberg, Funeral Director 306-693-4550