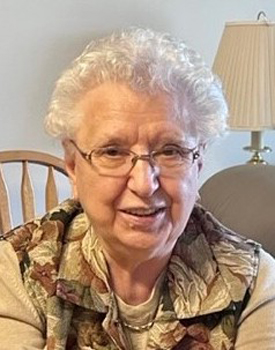 Natalie Albena Zakreski (née: Pidskalny), aged 90 years of Moose Jaw, SK passed away on Saturday, March 26th, 2022.  Natalie was born in Alvena, SK where her family farmed for decades.  She married Morris Zakreski on October 8th, 1950 and lived in the Cudworth area, Gull Lake and eventually moved permanently to Moose Jaw in 1961.
Natalie enjoyed homemaking, was an avid reader and was skilled at sewing, needlepoint, knitting and embroidery.  She especially looked forward each spring to planting her flower garden and loved travelling with Morris throughout Canada and internationally.  Natalie was social and enjoyed having afternoon tea with her neighbourhood friends.  She continued to be social and joined in the activities when they moved to Westpark Crossing and was happy they could be together so she could assist with Morris' care.  She loved her children, grandchildren, and great-grandchildren dearly.
She was predeceased by her husband of 71 years, Morris; parents, George and Antonia; daughter, Janice Heisler; brothers-in-law: Orest, Peter, Joseph and Bill; sisters-in-law, Victoria and Norma; nieces, Mary and Carol; and nephews, James and Doug.  Natalie is survived by her brother, Ed Pidskalny (Sharon); sons, Eugene Zakreski and Tim Zakreski (Sharla); daughters, Linda Zakreski and Angela Zakreski; grandchildren: Christopher Heisler, Blake Hudson (Teri), Bradley Hudson, Chelsey Hudson (Sam), Alexandra Zakreski, Evan Heisler (Alexandra), and Hannah Martin; and great-grandchildren: Isaac Hudson, Walker Hudson, Mya Hudson and Theodore Heisler.  
Many thanks to the staff at Westpark Crossing for their kindness and care of Natalie.
A Private Family Service will be held to honour Natalie.  Flowers are gratefully declined.  Arrangements are entrusted to Moose Jaw Funeral Home, 268 Mulberry Lane.  Todd Sjoberg, Funeral Director 306-693-4550