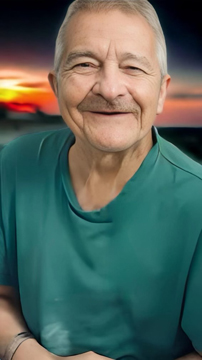 It is with great sadness we say goodbye to our beloved dad, brother, uncle, grandpa and friend, Alvin Lee Yamniuk aged 77 years of Moose Jaw, SK, who passed away on Tuesday, June 27th, 2023, surrounded by family.  Alvin was born in Moose Jaw on December 12th, 1945 and was raised in Drinkwater, SK.  In his early years, Alvin worked on the CPR gangs, road construction for Ramsey and Bird, BACM construction, Lewis' Construction, as well as cement work.  Alvin had several favourite things he enjoyed in life such as scratch tickets, black licorice, fresh fruits from the fruit stand, as well as watching old western movies.  Most of all, Alvin loved spending time with his grandchildren and great-grandchildren.  They always held a special place in his heart.  Alvin was known for being a friendly, outgoing, and talkative guy.  The most memorable feature he had was always having a warm, comforting smile that followed along with a slight chuckle.  His past several months, were spent in nursing homes due to his health, and he was known by the staff for his cheeky comebacks and warm smiles, which was always a favourite among the staff.  Alvin had taken a liking to a few special staff members.  We would like to extend thank you to the staff of Extendicare, Moose Jaw for the care they provided Alvin while he was there.  As well, the family would like to thank all the staff at the care homes and Dr. Hugo. 
He was predeceased by his parents, John and Eileen Yamniuk; partner of 38 years, Arlene Lewis; sister, Darlene Black; brother, Brian Yamniuk; brother-in-law, David Black; baby nephew, Brian Labreque; and grandparents, Dan Yamniuk and Annie Yamniuk-Lewis.  Alvin is survived by: his son, Jodey Preston (Susan); grandchildren: Ashley (Seymor), Kayla, Anthony, and Josh; son, Danny Preston (Leeanne); grandchildren: Denyce, Shylan (Scott), and Shelby (Ariel); daughter, Tanya Channer; grandchildren, Payton (Wyatt) and Madison (Tom); brothers, Mervin Yamniuk (Linda) of Calgary, AB and Mike Yamniuk of Regina, SK; sister, Gloria Dean (Ken) of Moose Jaw, SK; sister-in-law, Pauline Yamniuk; as well as many nieces and nephews.  Alvin had a great fondness for his niece, Laurel Yamniuk and special family friends, Ellen Preston and Kenda Preston.
At Alvin's request, a private family gathering will take place at a later date.
We love and miss you. Until we meet again.
Arrangements are entrusted to Moose Jaw Funeral Home, 268 Mulberry Lane.  Andrew Pratt Funeral Director 306-693-4550