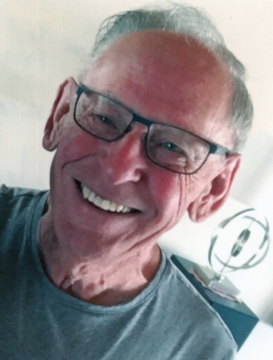 April 19th, 1945 – March 6th, 2023

The family of Ken Wuschke is saddened to announce his passing on Monday, March 6th, 2023 at the age of 77 years from multiple myelomia.  Ken was surrounded by love and is survived by his wife of 54 years, Arlene; son, Douglas (Christine); granddaughters: Kathleen, Hayley (Brady), and Hannah (Josh); and great-grandson, Leo.  He is also survived by his brother, Ed (Donna); brother-in-law, Ed Hamp; as well as many nieces and nephews and their extended families.  Ken has many in-laws and their extended families on Arlene's side of the family.  He was predeceased by his parents, Fred and Paula Wuschke; brother, Karl; sisters, Elizabeth and Evelyn, and brother-in-law, Don Chappell.

Ken graduated from the University of Saskatchewan with a Batchelor of Science in Electrical Engineering degree and worked at the Prince Albert Pulp Mill for nearly a year.  He then began a career as an instructor at STI/SIAST/Sask Polytechnic in Electronics Engineering Technology, eventually moving to Computer Engineering Technology as department head until he retired in 2004.

As a farm boy growing up in the Mossbank area and under the guidance of his father, Ken learned how to build and repair almost anything.  He would construct fences, decks, and garages, shingle roofs, pour cement driveways and sidewalks.  He maintained if he had a square, a level, and good tools he could tackle anything.  Just for a challenge he decided to build a cabin from the ground up in a modified diamond shape – a modest 24′ by 48′ and 20′ high.  He estimated he pounded nails into 4000 feet of tongue and groove cedar boards.  As it was an open concept building, Ken built a walkway which spanned from the upper bedroom, across the open downstairs, to the upper deck at the opposite end of the building.  He also wired and put in all the plumbing.  The inspectors gave him an A+ on his skills.  Ken also loved to work on cars, using his many skills he learned fixing machinery on the farm and also from the years he belonged to the Draggins Car Club in Saskatoon.

Flying radio controlled airplanes began as a childhood hobby and continued through Ken's life and he was a long time member of the MJ R/C Club.  He also liked to curl, golf and cycle, but a new passion – down hill skiing – began in mid life.  It was a source of much happiness and yearly family gatherings in Banff.  He skied the Rockies, both north and south of the border, and even was stuck (temporarily) on a chairlift in Austria.  He swooshed down many hundreds of miles of ski trails, the faster the better.  Quite a feat for a flat land prairie boy who was afraid of heights.  He loved flying both literally with his planes and figuratively on the slopes.

Ken's motto: "Check the oil, check the air in the tires, and keep a tool kit in the trunk and a jack knife in your pocket".  In other words, try to avoid trouble but be prepared if it happens.

Thank you to the staff at the Dr. F.H. Wigmore Regional Hospital and the Allan Blair Cancer Centre.
A Celebration of Life Tea will be held on Monday, March 13th, 2023 at 1:00 p.m. in the Harvey Room at Moose Jaw Funeral Home.  Tributes from family will begin at 1:30 p.m. and then anyone who wishes to say a few words are welcome to do so.
Thank you to the staff at the Dr. F.H. Wigmore Regional Hospital and the Allan Blair Cancer Centre.  In lieu of flowers, please consider a donation to either hospital.  Arrangements are entrusted to Moose Jaw Funeral Home, 268 Mulberry Lane.  Cara Ashworth – Intern Funeral Director 306-693-4550