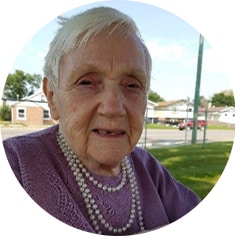 Doris Wright, aged 89 years of Moose Jaw, SK, passed away peacefully with her family at her side on Tuesday May 28th, 2019.  She was predeceased by her husband, James Kenneth (Ken) Wright; parents, Henry and Maud Gibbs; sisters, Dorothy Gibbs and Norah Ivers (Bill Ivers); and brothers: Henry Gibbs (Margaret), Norman Gibbs, Don Gibbs, Ken Gibbs (Mildred); sister-in-law, Phyllis Ferguson (James Ferguson) and brother-in-law, Richard Thomson. Doris is survived by her son, Les Wright and his partner Evelyn Lange of Minneapolis, MN; grandchildren, Matthew Wright of Minneapolis, MN and Kathleen Wright of New Orleans, LA; brother, Allan Gibbs (June Fitchett) of Vancouver, BC; sister-in-law, Sheila Gibbs of Courtenay, BC; sister-in-law, Mildred Thomson of Little Falls, MN; as well as numerous nieces and nephews and their families across Canada and the U.S.  
Doris was born a twin with her brother Don in Moose Jaw, SK.  She was educated in Moose Jaw and worked for several years in the late 40's and early 50's for the Moose Jaw Co-op at its then High Street location.  Doris married Ken Wright in 1953 and they had one son Les.
Doris was always strongly linked to her family.  Growing up in Moose Jaw through the Depression and the War Years, various tragedies befell the Gibbs family which saw them lose both of their parents as well as a sister and a brother by 1943.  Doris, with her siblings, worked very hard to keep their family together and made personal sacrifices to make this happen.
All of her life, Doris' warm loving character and her willingness to help others and give of herself, endeared her to her family and to many other people who came to know her.  Her pleasant "can do" attitude and willingness to get involved was noticed and appreciated both within her circle of family and friends and by many others. She will always be remembered for her hearty laugh as she always enjoyed a good story or joke in the company of family and friends.  In later years, she also enjoyed going for coffee with Ken to the Co-op or at McDonalds and became part of the "coffee gang" engaging in lively discussions on most any topic.
Doris had a great fondness for small children and noticed them and doted on them.  As a young mother, she loved to play games with the neighbourhood kids and volunteered for such roles as volunteer pitcher to make sure the appropriate pitches were made to meet the skill levels of the young "batters".  She would also serve as the permanent "IT" in games of "kick the can" to allow younger kids to swoop in with glee to get their kick. Many times the kids would come to the back door and ask, "Can Mrs. Wright come out to play?"
Even in her more recent years, she enjoyed going for coffee to the mall where the sight of young families and children warmed her heart and brought a smile to her face.  She would very quickly share a smile and any small treat she had with them. We will all miss her very warm and comforting hugs.
The Funeral Service will be held on Monday, June 3rd, 2019 at 11:00 a.m. in Moose Jaw Funeral Home with a viewing starting at 10:30 a.m.  Reverend Deacon Arleen Champion will officiate and interment will take place at Rosedale Cemetery in Moose Jaw.  The service will also be webcast at www.moosejawfuneralhome.com/webcast/ starting approximately 5-10 minutes ahead of 11:00 a.m.
The family would like to express their great appreciation and thanks to the entire Extendicare Moose Jaw team for their tremendous professionalism and the personal care provided to Doris throughout her nearly 4 year stay and especially the consideration given in her most recent time of need.  In lieu of flowers, donations in Doris' name may be made to the Extendicare Residents' Fund in care of Extendicare, 1151 Coteau St W, Moose Jaw, SK S6H 5G5. Arrangements are entrusted to Moose Jaw Funeral Home, 268 Mulberry Lane. Todd Sjoberg, Funeral Director 306-693-4550