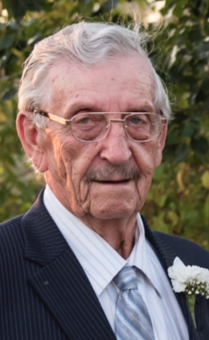 Ervin Elert Wirth, aged 92 years of Moose Jaw and formerly of Melville, SK passed away on Sunday, July 25th, 2021 with his family by his side. 
He was predeceased by his parents, Henry and Elizabeth; brother, Arthur; his twin sister, Vera Roemer; mother and father-in-law, James and Dorothy Ward; beloved daughter, Susan Postnikoff; and grandson-in-law, Will Duncan.  Ervin will be missed by his loving wife of 63 years, Alean; children: Glenn, Debbie (Daryl) and Carol (Chuck); an abundance of adoring grandchildren: Amanda (Jake), Beckie (Mike), Jeremy (Jen), Danielle (Kelly), Michelle, Kristen (Jeff), Melanie, Kim (Justin), Marcus (Megan), Nick (Melissa), and Jessica (Dillon); great-grandchildren: Olivia, Katie, Tyson, Jada, Abbie, Zoe, Kohen, Sydnee, Jacob, Kaleb, Julia, Griffin, Tony, Lucas, Kaylee, Bennett, Elsie and Reggie; as well as numerous nieces and nephews. 
Ervin was born on July 26th, 1928 in Neudorf, SK.  He resided and worked on the family farm until he moved to Melville to start a lifelong career with the CN Rail.  He met Alean Florence Ward and on April 25th, 1958 and they were wed in Duff, SK.  While starting a family and working on the railroad, together they opened a successful fabric business.  Upon retirement in 1989, Ervin and Alean moved to Moose Jaw to be closer to family. 
Ervin enjoyed the outdoors, spending time gardening, camping, hunting, fishing and would also enjoy a good read or a game of cards.  Ervin and Alean enjoyed their winters with close friends in Yuma, Arizona.  They also created many cherished memories with their family during the summers at their Long Lake cottage, which most often included a whipping cream fight usually instigated by Ervin. 
The family would like to send a heartfelt Thank You to the staff of the ICU Medicine Ward at Dr. F.H. Wigmore Regional Hospital and Extendicare Moose Jaw. 
A Service will be held in honour of Ervin's life on Friday, July 30th, 2021 at 11:00 a.m. in Moose Jaw Funeral Home with Reverend Doug Shepherd officiating.  Due to family members with medical conditions, those attending are asked to wear masks for the service.  For those unable to attend, you are invited to watch the live service virtually by going to www.moosejawfuneralhome.com/webcast/.  Flowers are gratefully declined.  If desired, donations in Ervin's name may be made to the Moose Jaw Health Foundation, 55 Diefenbaker Drive, Moose Jaw, SK S6J 0C2.  Arrangements are entrusted to Moose Jaw Funeral Home, 268 Mulberry Lane.  Todd Sjoberg, Funeral Director 306-693-4550