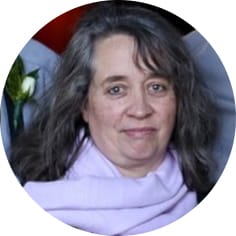 Michelle D. Winter passed away in Moose Jaw, SK on Saturday, February 15th, 2020 at the age of 51 years.  
Michelle was born on August 18th, 1968 in Winnipeg, MB.  Though she was an only child and spent the years of her childhood mostly in British Columbia until well into her early adult life, she eventually moved to Saskatchewan with her husband, Ivar and built a life for her and her growing family there.
Michelle loved to plant flowers and spend time outside in the gardens she'd had over the years.  She loved to spend time outside with her family, her dogs (Stella, and then later Cassie and Raven), spending time in parks or just enjoying the world outside with the people and creatures she loved.
Most of all, she loved her children and her recent grandchildren very much.  She talked about the joys of being a grandmother and how excited she was to see their little smiling faces and spend every chance she got with them.  That was her world. The world she fought to build and protect, and her love and strength will be remembered by those whose lives she touched.
She was predeceased by her grandmother, Verna.  Michelle will be lovingly remembered by her mother, Sandra McGinnis; sons: Tyson (Brittney) Winter, Thomas Winter, and Riley Winter; partner, Dave Grieve; grandchildren, Evie and Thomas Winter; and the many animals, friends and others left behind that she loved no less than any other.  
A Celebration of Michelle's Life will be held at a later date with venue and other details confirmed by the family.  A private family interment will also take place at a later date.
In lieu of flowers, donations in Michelle's name may be made to Flirting with Fido (Moose Jaw), The Moose Jaw Humane Society, Box 1658 Station Main, Moose Jaw, SK S6H 7K7 or any animal shelter of your choice.
Arrangements are entrusted to Moose Jaw Funeral Home, 268 Mulberry Lane.  Todd Sjoberg, Funeral Director 306-693-4550