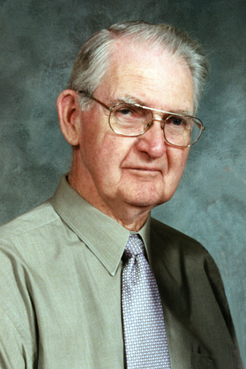 Robert Wesley Winn, aged 95 years of Moose Jaw, SK passed away peacefully on Friday, June 24th, 2022 with his wife Mary by his side.  Bob was born in Tuxford, SK on March 4th, 1927 and grew up on the family homestead, which he later farmed.  He played the accordion for several years with the Belback Hillbillies for dances in Southern Saskatchewan and Temple Gardens in Moose Jaw.  Along with farming, Bob served on the Rural Council for 14 years, Lindale School Board, Wesley Church Board, drove school bus and took a correspondence course on clock and watch repair.
He was predeceased by his parents, Ezra and Maud Winn; brothers, Jim and Thomas; and sisters, Dorothy and Jean.  Bob is survived by his wife, Mary Winn (née: Bumphrey); sons, Bruce (Gladys), Garth, and Guthrie (Sandra); daughter, Janice Boyce (Leif); grandchildren: David (Kelly), Daniel (Alison), Kristyn Stevenson, and Carmyn Neill; great-grandchildren: Michael, Liam, Hayden, Olivia, Sophia, Joseph, Isaac, Calaya, and Kashton; and niece, Yvonne (Raymond) Heck of Calgary, AB.
The family would like to thank the doctors, nurses and staff at the Dr. F.H. Wigmore Regional Hospital for the care they provided to Bob.    
The Funeral Service will be held on Saturday, July 2nd, 2022 at 1:00 p.m. in Moose Jaw Funeral Home.  Reverend Doug Shepherd will officiate and interment will take place at Rosedale Cemetery.  Those unable to attend are able to view the service virtually by going to www.moosejawfuneralhome.com/webcast/.  As an expression of sympathy, donations in Bob's name may be made to the Allan Blair Cancer Centre c/o Pasqua Hospital, 4101 Dewdney Ave, Regina, SK S4T 7T1.  Arrangements are entrusted to Moose Jaw Funeral Home, 268 Mulberry Lane.  Gary McDowell, Funeral Director 306-693-4550