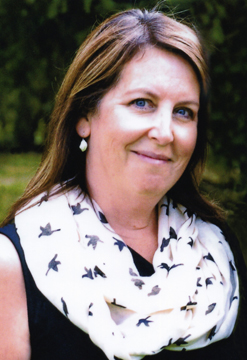 It is with heavy hearts we announce the sudden passing of Karen Wilson (née: Fitzpatrick), our cherished wife, mom, grandma, GiGi and friend after a very brief and unexpected courageous battle with cancer. She passed away peacefully with her family by her side on Thursday, December 1st, 2022. Karen was born in Barrie, ON on September 23rd, 1960.
She was predeceased by her parents, Peter and Norma Fitzpatrick; sister, Gail Caplan; and father-in-law, Basil Wilson. Karen is survived by her husband of 42 years, Jim; daughter, Kristen (Ryan) and grandson Maxton of Canmore, AB; son, Michael (Jamie) and granddaughter Ayla of Nashwaak Bridge, NB; brother, Michael (Sheila) of Newburgh, ON; sister, Colleen (Barry) of Breckenridge, QC; mother-in-law, June Wilson; as well as many aunts and uncles, nieces and nephews, and friends. Karen is also survived by her friend of 50 years, Debby Dombowsky.
Karen started her professional career in 1995 as an LPN. She shared her caregiving between Pioneer Lodge, Moose Jaw Union Hospital, and the Dr. F.H. Wigmore Regional Hospital, that led to earning her 25-year nursing pin. Karen offered compassion and care in her professional and everyday life. She touched the lives of many and made everyone she met feel special.
Karen enjoyed her cottage at Buffalo Pound Lake, family vacations, as well as hiking, walking, and biking. Her unconditional love for her family grew even more when two little sweet lights came into her life – Ayla and Maxton.
Karen will be sadly missed by all. Her beautiful spirit and kindness will live on.
In keeping with Karen's wishes, a Private Family Gathering will be held at a later date. As an expression of sympathy, donations in Karen's name may be made to the Canadian Cancer Society, 1910 McIntyre St, Regina, SK S4P 2R3 or Moose Jaw Health Foundation, 55 Diefenbaker Drive, Moose Jaw, SK S6J 0C2. Arrangements are entrusted to Moose Jaw Funeral Home, 268 Mulberry Lane. Cara Ashworth – Intern Funeral Director 306-693-4550