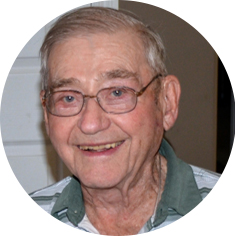 July 7th, 1925 – January 24th, 2021 
With great sadness, the family announces that Erle Wilson passed away peacefully at West Park Crossing Retirement Community in Moose Jaw, Saskatchewan due to natural causes on Sunday, January 24th, 2021.  He was 95 years young and is now together with his wife Dot.  He led a wonderful, rich and full life with much love and family.
Erle grew up in Central Butte, SK where he and Ron helped with their Dad's International Harvester and GM dealerships, running the grain elevator and working on the farm.  Many stories can be told of their exploits!  Erle married Dot and moved to Arborfield, SK where Judy and Bruce were born.  There, he had a Garage and International Harvester dealership with a partner.  They moved to Estevan, SK where Erle became an Instrument Technician for SaskPower.  He was a trustee on the School Board for several years.  Erle was a Mr. Fix It.  He was always working on cars.  He built his own water softener and repaired so many things.  Erle loved to camp and fish.  When the tent wasn't doing the job, he built it onto a trailer to make a tent trailer.  Then they had a truck camper with a folding top – he loved unique stuff.  They then got a fifth wheel trailer and Erle converted a Dodge Maxi-van to a truck to pull it.  They really enjoyed the time with family and friends, camping or visiting.  Erle had a love of flying.  He, Trevor Dean, Norm Kerr and Bruce bought an antique 1947 Taylorcraft and learned to fly in it.  Erle and Bert Hamilton built their Thorpe T18 airplanes.  About 5 years before retiring, Erle took a role as a Trainer for SaskPower out of Regina, SK then he and Dot moved to Moose Jaw.  He took up golfing and curling, and really enjoyed all the friends.  He was active in the United Church.  When he sold his plane, Erle took up building and flying Remote Controlled Airplanes and Helicopters, making more good friends.  He always had a project or something on the go.  He made 3 Mazda RX7's out of 4 wrecks.  He went back to work at SIAST helping in the Instrumentation labs for a while.  Erle liked doing jigsaw puzzles and usually had one on the go, even up until last week.  
Erle had a special relationship and many great memories with each of his grandchildren and great-grandchildren.  He made the time and effort to be a big part of their lives and they loved him! 
Erle made friends wherever he went and maintained those connections throughout his life.  He was always there to help whenever needed.
He was predeceased by his wife, Dorothy (Dot, née: King); parents, Charlie and Ida Wilson; sister, Dorothy Ladner; 1 baby sister and 2 baby brothers.  Erle is survived by his brother, Ron Wilson (Christel) of Parksville, BC; daughter, Judy Yathon (Tony) of Calgary, AB; son, Bruce (Lorrette) of Calgary, AB; grandchildren: Jeff Yathon (Carla), Evan Yathon (Morgan), Adam Wilson (Teresa), Michelle Brassard (Jeff), and Matt Wilson (Carley); and 8½ great-grandchildren: Oscar, ½, Ruby, Miles, Katya, Pascal, Remy, Brielle, and Monica.
The family would like to express their appreciation for the care and the caring by all the staff at West Park Crossing.  It made Erle's life and his family's lives much better.  The family would also like to thank Dr. A.J. VanHeerden and Dr. Waldner for their excellent care and their compassion.   
A Celebration of Erle's Life will be held on Saturday, September 18th, 2021 at 11:00 a.m. in Moose Jaw Funeral Home.  Reverend Tim Ellis will officiate and a private family interment will take place at Central Butte Cemetery.  As an expression of sympathy, donations in Erle's name may be made to one of his favorite charities: Sask Abilities Council, 2122 Broad St, Regina, SK S4P 1Y5 or to a charity of one's choice. 
We will miss him greatly!
Arrangements are entrusted to Moose Jaw Funeral Home, 268 Mulberry Lane.  Gary McDowell, Funeral Director 306-693-4550