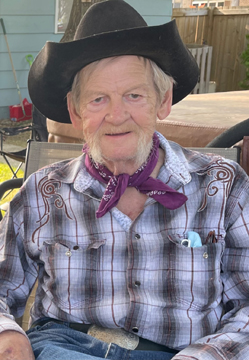 It is with great sadness that we say goodbye to David William Wilson.  David passed away on Sunday, April 30th, 2023, at age 74 years at St. Paul's Hospital in Saskatoon, SK.
David will be sadly missed by his wife of 54 years, Marjorie Anne (née: Huber); children: Clayton (Penny), Lana (Tim), Veronica (Stan), and Cameron; grandchildren: Alexi, Nathan, Aiden, Jace, Dylan, Callum, and Kyla; siblings: Paul (Susan), Cindy, and Ernie (Judy); as well as many nieces and nephews.
David was born in Gravelbourg, SK on July 30th, 1948. And spent his younger years in and around Coderre, SK.  In 1966 he met the love of his life, Marjorie, and they had four children in the 1970's.  They moved to Moose Jaw, SK in 1983 and stayed there until 2017 when they retired to Dinsmore, SK.
David worked for the Credit Union and Security Collection Agency for many years.  He loved spending time with his children and grandchildren, fishing, caring for his horses, and visiting with his friends and family.  David had thousands of stories and he was excellent at telling them, captivating his friends and family with his own memories, and always making new ones over the years.
A Memorial Service will be held on Saturday, June 3rd, 2023 at 2:00 p.m. in the Harvey Room at Moose Jaw Funeral Home.  In lieu of flowers, donations in David's name may be made to the wonderful and kind staff of St. Paul's Hospital Renal Unit and/or a Kinsmen Organization.  Arrangements are entrusted to Moose Jaw Funeral Home, 268 Mulberry Lane.  Gary McDowell, Funeral Director 306-693-4550