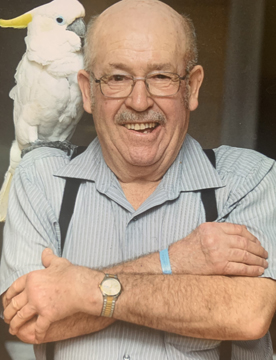 Charles Robert (Bob) Wilson
It is with deep sadness the family announces the sudden passing of Charles Robert (Bob) Wilson on Friday, June 17th, 2022.  He passed away unexpectedly at his home near Tugaske, SK.  Bob was born in Central Butte, SK on February 21st, 1942 and was raised on his parent's homestead near Tugaske.  This homestead became the home where he lived with his wife Jean Wilson (née: Kenny) and raised his family of four.
Bob enjoyed his 80 years on God's planet.  He stood by his family, sharing his laughter, generosity, and steadfast love that built them into the people whom they are today.  He took pride in his grain fields and cattle yards.  He had a strong love for animals, especially his many canine companions that he owned over the years.  Bob thoroughly enjoyed hunting, fishing, and playing games and cards.  He enjoyed coaching hockey when his son was young, and watching and playing sports.
He was predeceased by his parents, Wilfred and Katie Wilson; grandson, Hayden Bevan; and brother-in-law, Ronald Coutts.  Bob will be fondly missed and forever remembered by his wife and best friend of 59 years, Jean; and children: Kevin Wilson (Colette), Marika Chiverton (Kim), Vanessa Bevan, and Adina Wilson.  He leaves behind 11 grandchildren: Robert, Sarah, Daniel, Celeste, Celine, Leighton, Caia, Ainsley, Joshua, Zachary, and Mckayla; and great-grandchildren: Aubrey, Broden and Remmy.  He is survived by his sister, Yvonne Coutts; as well as his nieces and nephews, and many friends.
A Memorial Service will be held on Tuesday, June 28th, 2022 at 2:00 p.m. in the Tugaske Community Centre in Tugaske, SK.  Lunch and a time of fellowship to follow.  Those unable to attend may view the service virtually by going to https://youtu.be/lDzamFP4ZJc.  In lieu of flowers, donations in Bob's name may be made to the Tugaske Lions or the Tugaske Community Centre.  Arrangements are entrusted to Moose Jaw Funeral Home, 268 Mulberry Lane.  Gary McDowell, Funeral Director 306-693-4550