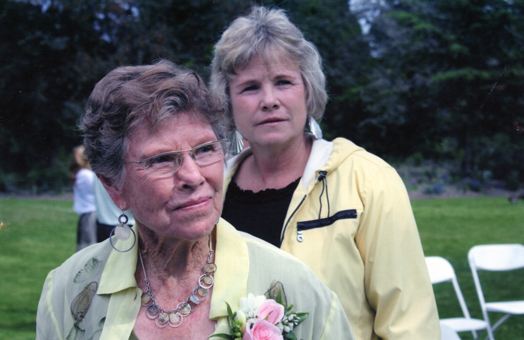 March, 28th, 1928 – November 18th, 2021
As a blizzard was waning in the early hours of Thursday, November 18th, 2021 Pat Wills was leaving the world.  Being a straight shooter and a 'tell-it-as-she-saw-it' woman, Pat had no interest in describing the inevitable as 'crossing over' or 'passing away'.  She wanted it said straight when her turn came.  So let it be known that, after a long and arduous struggle with a strong will and an even stronger heart, Pat Wills died. 
Leona Blanche Smith, or Pat as she was known from an early age, was the youngest of eight children born to first generation Irish-Canadians, John and Matilda Smith.  As was the norm for the family of a CNR maintenance foreman, the Smiths moved where the work took them.  After leaving her birth place of Bridgeford, the family lived briefly in Chipperfield before settling in Fir Mountain.  It was the Fir Mountain years that enabled Pat to come of age.  It was also there that Pat's directness continued to flourish.  As the story goes, Matilda often found it necessary to remind her youngest child that 'the spoken word could never be unsaid'.  Nevertheless, Pat charged onward with a direct but caring spirit, a quick mind and a sharp tongue. 
Given limited educational opportunities in Fir Mountain, Pat moved to Regina and bunked in with her eldest sister Jean to complete grade twelve at Scott Collegiate.  She left as the class valedictorian.  Pat's next change of address involved a fateful move to Moose Jaw where she would train as a nurse at the Union Hospital.  She graduated in the Class of '49 but, before doing so, was swept off her feet by Jack Wills, her life-long love.  They married in 1950 and soon found a home on the east side where they would raise five children: Jeff (Steveston, BC), Jill (Cochrane, AB), Bob (Moose Jaw), Jim (Lethbridge, AB) and Joe (Moose Jaw). 
It was on the corner of Hall and 3rd Ave NE that Pat put down roots.  Those roots and a happy home gave way to a subtle dynamo.  Pat was an RN and a stay-at-home Mom, a St. Andrews Sunday School Teacher and a United Church Explorer Leader.  She was a voice in the choir.  Pat was a bowler and a long-time member of both the Tennis Club and the YM/YWCA.  She was a walker, a good gardener and a great baker.  Her apple pies were 'to die for' and her Halloween popcorn balls were sought after by Ross School kids from near and far.
But most of all she was happy just to be Mom, or Mrs. Wills to the neighbourhood kids, Auntie Pat to her nieces and nephews, and Gramma to grandchildren who adored her.  Make no mistake.  It was Mom who held things together.  It was Mrs. Wills who stood her ground when it was needed most.  Whether she was wielding a straw broom to break up a teenage beat-down on the corner, bringing a less fortunate Explorer home for a make-over before the big Christmas function, addressing City Council with her quick mind and sharp tongue, or simply sharing coffee with good friends; one never had to guess where Pat stood.  Through the years she remained ever candid with her life views whether or not they represented popular opinion. 
As the seasons drifted by and Pat's guns grew a little rusty, she continued to be a straight shooter.  She also lived on as a loyal Moose Javian and a tried and true east-ender.  Even after Jack was gone and she had moved into a pleasant suite in 'The Avenues', Pat remained convinced that the air on the east side was always fresher.  So now with the ubiquitous 'in lieu of flowers', those so inclined may make a contribution in Pat's name to A. E. Peacock Collegiate, 145 Ross Street E, Moose Jaw, SK S6H 0S3.  She was, after all, an east-end gal.
In keeping with Pat's wishes, there will be no funeral.  Instead a family gathering/wake will be take place at future date.  In all likelihood, it will happen somewhere on the east side.  In the interim, however, here's hoping that Pat's final wish will unfold as it should.  That wish – the chance to return as a guardian angel for young children everywhere in her next incarnation … Slàinte Mhath Gramma, Slàinte Mhath!
Arrangements are entrusted to Moose Jaw Funeral Home, 268 Mulberry Lane.  Andrew Pratt Funeral Director 306-693-4550