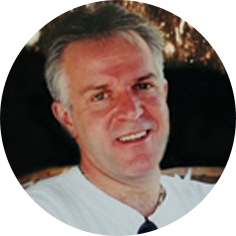 SCOTT RANDALL WILLIAMSON
April 2nd, 1960 – September 8th, 2017
"Life's been good to me so far."
Scott passed away peacefully with his family by his side on Friday, September 8th, 2017.  He was predeceased by his parents, Keith and Eileen; sister, Barbara Dawn; and brother-in-law, Ron.  Scott is survived by his wife, Karen; brother, Ross (Debbie); children: Morganne, Madison, Jeremy (Jolene), Leanne, Cody, and Caitlyn (Jesse); grandchildren: Brayden, Ethne, Zander and Ryder; and dogs, Monster and Buddy; as well as Karen's brothers, sisters and extended family.  Growing up in Moose Jaw, Saskatchewan with his parents Keith and Eileen and older brother Ross, Scott attended Vanier Collegiate where he acquired his life-long love of education.  His interests included football, hockey and music.  He later attended post-secondary school at the University of Regina where he earned his Bachelor of Education.  He began teaching Grade 3 at Prince Arthur in Moose Jaw in 1983 where he became Vice Principal.  He continued his educational journey where he received his Masters of Education at the University of Oregon in 1992.  Scott was a natural born leader and spent many years as a Vice Principal and Principal at various schools in Moose Jaw before becoming Principal at Central Collegiate for the final 9 years of his career.  His professional yet easy going demeanour served him well in his many leadership roles.  Scott welcomed the challenge of educating all students and embraced diversity.  He had a gift for making every single student and staff member feel special.  Karen and Scott shared a deep love for each other that included blending their families.  Karen's kids and grandchildren adored Scott as he was a wonderful stepdad and grandpa.  He and Karen shared many wonderful times, travelling, attending school events, entertaining, and the simple things in life.  Their time together, along with their strong faith, family, friends and community have been especially important through this past year.  Scott took pride in being a father to his daughters, Morganne and Madison.  Together, they created unique traditions such as 'The Ceremonial Snow Run' which occurred the first snowfall of every winter.  A great deal of his parenting consisted of turning life lessons into fun games.  He had a special way of making everything feel magical and playful.  As a dad he was mindful, and everything was done with intention.  He gave his girls the best childhood possible and taught the importance of family with love and humour.  Taking his dogs to Wakamow with his wife Karen was something Scott cherished.  He enjoyed his daily 'steeped tea', working in the yard, camping with his girls and visiting around a fire.  Music was a huge part of his life; his brother remembers many late nights listening to music on the deck.  Scott lived life to the fullest.  Scott impacted everyone that came into his life in a positive way.  Karen and family would like to express gratitude for the support shown by the FHHR Home Care Palliative Program, Dr. A J Van Heerden and Dr. B Van Heerden, and the Allan Blair Cancer Centre.  The Funeral Service will be held on Sunday, September 17th, 2017 at 3:00 p.m. at the Hildebrand Chapel in Caronport, SK with Rev. Dr. Dean Pinter officiating.  In lieu of flowers, donations in Scott's name may be made to Prairie South School Division, 1075 9th Ave NW, Moose Jaw, SK S6H 1V7 for the Scott Williamson Scholarship Fund or to FHHR Home Care Palliative Program c/o Crescent View Clinic, 131 – 1st Ave NE, Moose Jaw, SK S6H 0Y9.
In loving memory of Scott, aka Lovebug, Bbug, Willie,
PPS (Papa Scott), Mr. Dub, Dear ol' Dad.
Arrangements are entrusted to Moose Jaw Funeral Home, 268 Mulberry Lane.  James Murdock, Funeral Director 306-693-4550