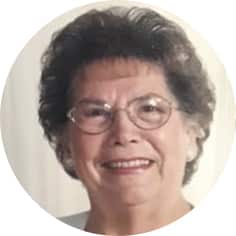 DOLORES LORRAINE WILLFONG (née: Pierce)
Dolores' life story starts in Moose Jaw, SK on February 6th, 1932, the oldest child to Clarence and Vera (Passmore) Pierce.  Her journey peacefully ended, 39 days after her husband of 69 years passed away, and just shy of her 88th birthday, at Pioneer Lodge in Moose Jaw, SK on Monday, January 27th, 2020.  Mom was known for her love of square dancing, Cosmopolitan Club functions, cooking and baking (the amazing meals, with endless memories attached, will never be forgotten or duplicated), reading, tending to her many flowers in the summertime, preparing for and celebrating Christmas with her family, sharing treats with her many pets, travelling – especially to Hawaii, and spending more than 50 summers at the family cabin at Sun Valley – Buffalo Pound Lake with family and friends.  Mom's first job was at Prairie News, which was a wholesale distributor of magazines, comic books, pulp fiction, newspapers, pocket books, etc. She worked there for about 1 ½ years, at which time she was also employed by Willms Transport Corp/Comet Transport as a Bookkeeper, intermittently (while starting her family) from 1950–1959. In 1959 she was employed again as Bookkeeper for Bennett's Books Store until it closed in 1965. Her next position was with the Moose Jaw Credit Bureau, as a Bookkeeper, where she remained until 1971.  In 1971 she was offered employment at the Harwood Hotel, as an accountant, where she remained until 1988. Also, during 1983-1989, she and Glen owned and operated Roadrunner Lube, Tune and Gas Bar. In 1988 she became the Administrator at Ina Grafton Gage Home, where she remained until June of 2000; her long, dedicated career much deservingly ended, finally retiring at the age of 68. She was predeceased by her husband, Glen; infant daughter, Tami Lee; son-in-law, Neil Ingalls; father, Clarence; mother, Vera; brothers, Wayne and Lloyd Pierce; sister, Valerie Morgan; in-laws: Bernice (Raymond) Beaudette, Helen (Ernest) Statham, Grace (Robert) Taylor, Myrtle (Albert) Miller, Joyce Willfong, and Murray (Mary) Willfong.  Dolores is survived by and forever lovingly missed by her daughter, Cheryl Ingalls (Glenn Hepworth); grandchildren: Kevin (Bobbi) Ingalls, Quinn and Piper, Tammy (Bruce) Tweten, Tyler (Victoria), Richard, Dona and Blake, Stacey (Cory) Martin, Aidan, Markayl, Keely, Caibre and Roark, and Kyle Ingalls (Laurie Neufeld), Lexi and Carson; son, Randy (Teresa) Willfong; grandchildren: Corrie (Lesley) Willfong, Paige, Tessa, Kyle and Hunter, Marty (Janna) Willfong, Logan, Noah and Heidi, and Vanessa (Fadi) Zanidean, Nabil, Adnan and Rahim; son, Trent (Leslie) Willfong; grandchildren: Tanner Willfong (Courtney Drake), and Tory (Tessa) Willfong, Charlee; canine companion, Bijou (aka Teddy); sisters-in-law, Gladys Pierce and Judy Pierce; and brother-in-law, Harold Willfong.  The family would like to express their heartfelt gratitude to the following for the exceptional care and support for Dolores during her recent health struggles: Moose Jaw Pioneer Lodge, Moose Jaw Extendicare, Dr. F.H. Wigmore Regional Hospital Medicine Ward, Moose Jaw Home Care, Moose Jaw and District EMS, and Dr. D. Braun.  A Celebration of Dolores' Life will be held on Monday, February 10th, 2020 at 1:30 p.m. in the Harvey Room at Moose Jaw Funeral Home with Reverend Tim Ellis officiating.
Those we love
Don't go away,
They walk beside us
Every day.
Unseen, unheard,
But always near,
So loved, so missed,
So very dear.
Arrangements are entrusted to Moose Jaw Funeral Home, 268 Mulberry Lane.  Gary McDowell, Funeral Director 306-693-4550