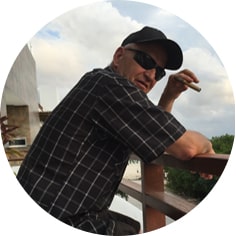 Jimmy (James Adam) Wilk, aged 64 years of age from Moose Jaw, SK passed away Saturday, June 1st, 2019.
Jimmy was born in Moose Jaw, SK on August 24th, 1954 to parents Michael and Pauline.  He was predeceased by his parents, brothers Robert and Arnold, niece Emma, and nephews Kevin and Norman.
Jimmy will be deeply missed and mourned by all his friends and family members: Long-time partner, Brenda McKenzie (Derek and Chadd); children: David (Katherine), Justin (Alyssa), and Ashley (Morgan); granddaughters, Jessa and Alexandra; brothers: Raymond, Gerald (Kathy), Wayne (Debbie), Ernie (Rose), and Terry; sister; Diane (Mike); sister-in-law, Joanne Wilk; many aunts, uncles, nieces and nephews; all of Brenda's family; as well as all the staff at J. Wilk Landscaping Ltd, and all members of the Moose Jaw Shrine Club.
Jimmy lived one hell of a life.  No task or adventure was too big for him to take on.  If you phoned Jimmy, he would always be there for you, and would give you the shirt off his back if you needed it.  In his own way, Jimmy made each person in his life feel special. Those who knew Jimmy would agree that he always had a genuine and transparent approach to what he did, he never left anyone guessing.
Jimmy's first job was with the Canadian Pacific Railway when he was 16 years old.  In classic Jimmy fashion, that wasn't enough for him, so he began working on the side doing yard work and landscaping.  Jimmy's hard work led to the prestigious and successful business, J. Wilk Landscaping, which began 45 years ago. Other than work, Jimmy's passions in life were with his family, friends, and the Moose Jaw Shrine Club.  He loved to fly his plane and tinker with all the machinery he had around. Jimmy was always busy with something, and most recently became a councillor with the RM of Moose Jaw #161. Hardworking, dedicated, committed, passionate, thoughtful, and loving are just a few words to describe the man in Jimmy Wilk who we all have been touched by.  
The Funeral Service will be held on Saturday, June 15th, 2019 at 11:00 a.m. in the Alliance Church, 14 Neslia Pl, Moose Jaw SK with Dave Foley officiating.  Extra parking will be available at the Salvation Army Church located next to the Alliance Church.  A fellowship gathering will follow at the Moose Jaw Shrine Club, 1767 Main St N, Moose Jaw SK. Feel free to be like Jimmy and wear your jeans.  As an expression of sympathy, donations in Jimmy's name may be made to the Moose Jaw Shrine Club, 1767 Main St N, Moose Jaw SK S6J 1L6. Arrangements are entrusted to Moose Jaw Funeral Home, 268 Mulberry Lane.  Calvin Gammel, Funeral Director 306-693-4550.