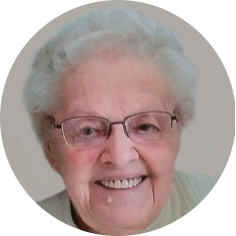 With heavy hearts we announce the passing of our Mom, Eileen Irene Wiens (née: Piston) on Monday, July 6th, 2020 at the age of 86 years.  Eileen was a gentle, soft spoken soul who would always help those in need.  Throughout all of her physical trials, she endured them with dignity and grace.  She was predeceased by her parents, Ann (John Yorke); sister, Myrna (Mike Artynuik); Abram and Ann Wiens; as well as numerous relatives and friends.   
Eileen leaves her cherished memories to her two daughters, Shirley (Glen Vankoughnett) and Dianne (Georges Bujold); grandchildren: Chantal (Scott Casselman), Phillip and Sean; and friends: Mitch (Bear),Vicky, Shari, and Heritage Place Gangsters, to name a few.
Our heartfelt thank you to the doctors and nurses at the Dr. F.H. Wigmore Regional Hospital, Pioneer Lodge, Dr. Fynn and Brina Mark for their special care.
"'And he will wipe out every tear from their eyes, and death will be no more, neither will mourning nor outcry nor pain be anymore.  The former things have passed away.'  And the One seated on the throne said: 'Look! I am making all things new.'  Also, he says: 'Write, because these words are faithful and true.'" – Revelations 21:1-5
In keeping with Eileen's wishes, no Funeral Service will be held.  As an expression of sympathy, donations in Eileen's name may be made to Jehovah Witnesses Worldwide Work or Cystic Fibrosis Canada, 2323 Yonge Street, Suite 800, Toronto, ON M4P 2C9.  Arrangements are entrusted to Moose Jaw Funeral Home, 268 Mulberry Lane.  Andrew Pratt Funeral Director 306-693-4550