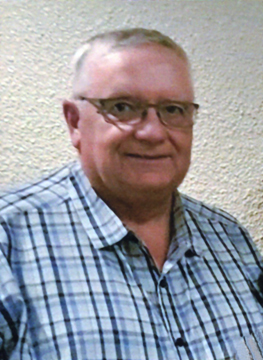 Norman Dale Whitfield aged 69 years of Briercrest, SK, passed away on Tuesday, April 25th, 2023, sleeping in his favourite chair, surrounded by family.  Dale spent all his life in the village of Briercrest.  After graduating from Briercrest School in 1972, Dale started farming with is dad, Uncle Vin, and brother Barry.  In June of 1975 Dale married his high school sweetheart Helen Jasper.  They lived in Briercrest where they farmed and raised their children, Nancy and Michael.
Dale was a man of principal, early to bed and early to rise.  Some of his natural habitats were on the tractor or combine working the soil, which he loved, and did for 50 years.
He worked tirelessly in his community.  He helped with the addition of the rink, helped build the community centre and the store.  Plus, he helped many a neighbor and friend whenever needed, even if it were to take out a wall or build a garage.
Dale was also a councillor for the Village of Briercrest for many years and took another term just recently.  He was a member of the Briercrest Lions Club.
Usually, every morning Dale could be found at C&D, the local garage, for coffee where many a discussion took place about the local goings-on and current affairs.  
Dale and Helen took their kids on many ski trips to the mountains.  Dale also went on many fishing trips with the guys.  Dale and Helen spent many years enjoying road trips and camping.  They also travelled many times to Mexico and have made many long-lasting friendships.
He was predeceased by his parents, Norm and Beth Whitfield; in-laws, Joe and Edna Jasper; and brother-in-law, John Jasper.  Dale will be deeply missed by his wife, Helen; daughter, Nancy (Lee) Anthony and their children Wyatt, Alexa, and Josie of Mankota, SK; son, Michael (Amanda) and their children Sophie and Ava of Briercrest, SK.  He will also be missed by his siblings: Barry (Gail) Whitfield, Brenda (Larry) Paysen, and Vicki Getzlaf (Lawrence); sister-in-law, Lori Jasper; as well as many nieces, nephews, and cousins, and many, many special friends.  
A Celebration of Dale's Life will be held on Monday, May 1st, 2023 from 2:00 to 4:00 p.m. in the Briercrest Community Hall, Briercrest, SK.  A private family interment will take place in Briercrest Cemetery.  As an expression of sympathy, donations in Dale's name may be made to STARS Air Ambulance, 2640 Airport Road, Regina, SK S4W 1A3.  Arrangements are entrusted to Moose Jaw Funeral Home, 268 Mulberry Lane.  Andrew Pratt Funeral Director 306-693-4550