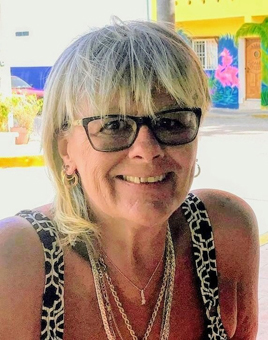 Joanne Frances Wetaski (née: Rice) passed away on Sunday, September 19th, 2021 at the age of 64 years after a short and courageous battle with cancer.
She was predeceased by her mother, Marguerite Bruce; step-father, Stuart Bruce; uncle, Jim Rice; aunt, Maureen Rice.  Joanne will be lovingly remembered and greatly missed by her husband of 39 years, Randy; step-daughters, Kerri and Rhonda; grandchildren: Arianna (Ben) Apperley, Cuda Ferguson and Alexander Schmegelsky; great-grandson, Deacon Apperley; as well as her cousins: Jim (Laura) Rice, Tom Rice, Janice (John) Pogorzelec, and Bob (Paula) Rice.
Joanne was born in Moose Jaw, SK at the Providence Hospital on May 2nd, 1957.  She grew up on the Rice farm in Tuxford, SK.  Joanne attended school in Tuxford, then moved on to Lindale School in Moose Jaw, started high school at Peacock and graduated from Vanier Collegiate.  She met her husband Randy in 1981 and they married in 1982.  Joanne started her career at Valley View Center in 1975 where she worked for 42 years, retiring in October of 2017.  Joanne worked as a Nurses Aide, she loved her job and the residents that she cared for.  Joanne was well known for her black Camaro, making numerous macramé plant hangers, and her love for collecting all things Coca-Cola, turtles and owls.  She and Randy spent many years from early spring till late fall at their cabin at Buffalo Pound Lake.  Joanne was well known for her lavish decorating on St. Patrick's Day, Easter, Halloween and Christmas.  Halloween was her favorite!!  Joanne and Randy started traveling in 2008 and after their first trip they caught the travel bug, going on a southern vacation every year until Covid hit.  Joanne and Randy have a special group of close knit friends that get together for good times and will be the first ones there in times of support.
A special thank you goes out to the doctors, nurses and care aides at the Dr. F.H. Wigmore Regional Hospital for their care, kindness and compassion.
A Time of Visitation for Family and Friends will take place on Thursday, September 23rd, 2021 from 7:00 p.m. to 9:00 p.m. at Moose Jaw Funeral Home.  A Celebration of Joanne's Life will be held on Saturday, September 25th, 2021 at 2:00 p.m. at the Fraternal Order of Eagles, 561 Home St W, Moose Jaw, SK.  In lieu of flowers, donations in Joanne's name may be made to a charity of one's choice.  Arrangements are entrusted to Moose Jaw Funeral Home, 268 Mulberry Lane.  Michelle Ellis, Funeral Director 306-693-4550