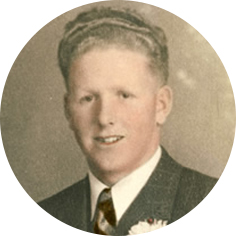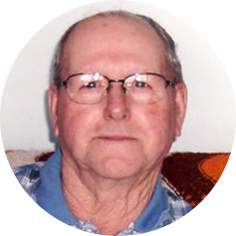 Weppler, Roy Edwin passed away peacefully on Saturday, May 24, 2008 at the age of 81 years, with his family by his side.  Roy was born on February 6, 1927 at the family farm north of Morse.  After finishing school in Morse, he drove a taxi in Moose Jaw for two winters.  He met Florence (Lindquist), his wife to be, during high school and they were married on October 11, 1947.
Dad loved farming and was active on his and his sons' farms for over 60 years.  Roy was also a natural musician and loved to play the piano, bass fiddle, guitar, banjo, organ, and played with many orchestras.  Dad was involved with the community – minor baseball, Elks, Masons, Credit Union Board, Skating Board, and Housing Authority.  He also worked for Saskatchewan Crop Insurance until the age of 65.  He loved to hunt and fish and spent winters in Texas and Sechelt, British Columbia.
Roy will be remembered for his warmth and gentleness, and his deep devotion to his family and friends.  He is predeceased by his wife of almost 60 years, Florence (nee Lindquist), and is survived by 4 children, 12 grandchildren and 13 great-grandchildren; eldest son Lee (Sharon) of Morse, Andrea (Scott), Keenan and Zachary Wilson of Medicine Hat, Cindy (Randy) Ryan and Gavin McCulloch of Herbert, Christine (Jason) Jaiden and Madison Lang of Calgary; daughter Glenda (Ken) Wiebe of Swift Current, Nick of Calgary, Darren (Larissa) and Haylee of Saskatoon;  Chantelle ( partner Sterling Fleury) of  Spy Hill, Sask., and Kimberley (Richard) Caedyn and Samara Moffitt of Swift Current; daughter Sandra (Dale) Heiydt of Kearney, Ont., Pamela (Rich), Mattias and Jenna Eyram of Oakville, Ont., John (Samantha), Sydney and Kira Heiydt of Richmond Hill Ont., Matthew ( partner Theresa MacFarlane) Heiydt of  Kitsilano B.C.; and son Gregg (Brenda), Dan ( fiancé Marla McCuaig) and Clayton all of Morse.
The funeral was held Thursday, May29th, 2008 at 2:00PM at the Morse Community Hall with Mr. Tom Weppler officiating.  Interment followed at Morse Cemetery with family by his side.  A time of fellowship followed at the Morse Community Hall.