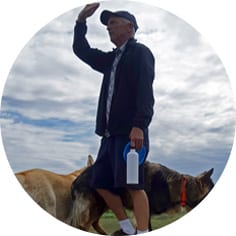 The Weiss family announce the passing of their cherished father, Regan Ward Weiss, on the morning of Tuesday, May 5th, 2020.  Regan passed away at home, peacefully in bed, due to health concerns.
Regan was born in Moose Jaw on August 8th, 1961 as the seventh of thirteen children.  Regan worked in public service for 35 years, at Canada Post in Moose Jaw and at times in Regina.  He married Kari in 1991 and raised two sons, Brett (Carley) and Blake.  Regan is affectionately remembered by his sons for his positivity, his love, his kindness and humility, and his incredible patience.  He formed many cherished memories with his sons; at home in the backyard and garage, at the cabin at Buffalo Pound, on the lake, on the many childhood road trips, and over the years into adulthood where Regan maintained a very close bond with both of his sons.  Regan is also remembered by his sons for teaching them about mechanical repairs, home repairs, woodworking, riding motorcycles, shooting guns, boating, fishing, gardening, and many other life skills.  Regan led by example and taught his sons about loyalty to family and friends, kindness to strangers, and helping anyone in need.  He was truly selfless in his willingness to help anyone at any time.  Regan is fondly remembered by Carley (Brett), to whom Regan acted as a father figure and a source of love and family support.  Carley enjoyed learning from Regan, who had so much knowledge to share. 
Regan had a passion for mechanics, and liked anything that could go fast; though he had a soft spot for Chevy's, especially Camaros.  Regan taught many family and friends about fixing and maintaining vehicles and equipment.  Regan was the go-to mechanic for many people in his circle, and was happy to spend the day working on your vehicle, for nothing but a coffee in return.  Regan spent countless hours in his garage, joking with family and friends as he worked on their vehicles.
Regan had a love for sports; especially hockey, football, and car racing.  Regan could often be heard cheering on his Habs during the hockey season, or shouting about the last laps of a car race. 
Regan loved and was loved by his family dogs, Jack and Cooper.  He enjoyed taking the dogs for long hikes in the fields around the Moose Jaw River.  Regan loved to spoil Jack and Cooper, always bringing home turkey drums or pork hocks after a long hike.  Jack and Cooper loved to go to Regan for a head scratch, a belly rub, or to lure Regan into the kitchen for another treat.  Regan will be sadly missed by his boys.
Regan had many friends and acquaintances from his decades in Moose Jaw.  Almost anywhere in the city, he would run into someone he knows, and would be happy to talk.  Regan was always smiling and joking, and he affected people very positively.
Regan loved his time at Canada Post, and was happy to go to work.  He would frequently say "I love my job!" after arriving home early in the afternoon.  Regan cherished his many friendships at work, and loved the environment he worked in.  He always had a story to tell about the joking he had done that day.  Regan retired from Canada Post in fall of 2019, after over 35 years of service.  Regan intended to spend his retirement in leisure; raising dogs, working on project cars, taking trips to Atlantic and Pacific coasts to visit his many siblings. 
Regan was predeceased by his mother, Bonnie Box; father, Wallace Weiss; step-father, Harold Box; brothers: Brent, Terrence, and Barry.  Regan is survived by Kari Weiss; sons, Brett (Carley) and Blake; 9 siblings: Brenda (John), Carey (Debbie), Sharon (Howie), Blaine (Susan), Kevin (Sherry), Darren (Melynda), Cynthia (Ryan), Adrian (Alicia), and Alan (Natalie); sister-in-law, Sherry (Terrance); lifelong friends: Daryl and April Hudson, John Carey, Tim Ferguson.  Also missing Regan are his many other friends from his work and personal life.  
Due to the uncertainty of current circumstances, a Celebration of Regan's Life will be held at a later time.  All family, friends, and acquaintances are welcomed and encouraged to come share food, stories, laughs and tears as we remember our cherished father, brother, uncle, cousin, nephew, and friend Regan Weiss.
Anyone who would like to make a donation in Regan's name is encouraged to do so to The Moose Jaw Humane Society, Box 1658 Station Main, Moose Jaw, SK S6H 7K7.  
Arrangements are entrusted to Moose Jaw Funeral Home, 268 Mulberry Lane.  Todd Sjoberg, Funeral Director 306-693-4550.