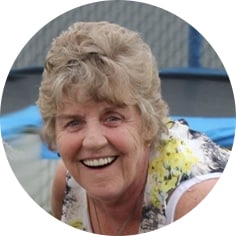 Joyce B. Weber (née: Lane), aged 71 years of Moose Jaw, SK passed away peacefully in her home, surrounded by her family, on Friday, March 20th, 2020 after a courageous battle with cancer.  
She was predeceased by her father, Charles; mother, Beatrice; sisters: Winnee, Iona, Charlene, Betty (Del), Lois and Maryline; brother, Ed; and the love of her life, Larry.  Joyce is survived by her sister, Ceone Winter of Victoria, BC. Joyce leaves her loving children: daughters, Sharon Dombowsky (Michael) and Brenda Watson (Dwight), and son, Brent Weber; grandchildren: Alex (Kahla) Dombowsky, Brittaney (Dylan) Kobsar, Trina (Dave) Dombowsky, Tianna (Mike) Dombowsky, Jennifer Watson and Melissa (Quinton) Watson to cherish her memory.  Although she held their hands for a short while, she will forever be in the hearts of her 8 great-grandchildren: Ethan, Aston, Angelina, William, Bentley, Henley, Ellie and Cassian. Joyce was born June 29th, 1948 in Moose Jaw, SK.  She attended William Grayson Elementary School and went onto A.E Peacock Collegiate.  Joyce met Larry early in her life and they tied the knot April 16th, 1966.  God placed Joyce on Earth for the soul purpose of caring for others and that's exactly what she did.  She began her career in childcare, which then evolved into a career with Community Living in 2003 and continued until December 2019.  Above providing care for others, Joyce always ensured her family was taken care of. Camping, gardening, garage sale-ing, office (Casino) visits, BINGO and travelling to Vegas with her BFF Darline were some of Joyce's favorite things to do.  She will be dearly missed by her two dogs, Unique and Bella. Her sense of style and humor were second to none. She loved wearing flashy jewelry, having funky colored hair and was always up for a good time. Despite always being the life of the party, Joyce was the most selfless, passionate, loyal and caring wife, mom, grandma and great-grandma.  She truly enjoyed helping others and devoted herself to bettering the lives of all those around her. Joyce will be deeply missed by everyone that had the pleasure of knowing her. We love you to the moon and back nana!
The family would like to send out a special thank you to Dr. Vermaak and the palliative care team.  As per Joyce's wishes, a Private Service will be held by the immediate family at a later date. In lieu of flowers, memorial donations in Joyce's name may be made to The Moose Jaw Humane Society, Box 1658 Station Main, Moose Jaw, SK S6H 7K7.  Arrangements are entrusted to Moose Jaw Funeral Home, 268 Mulberry Lane. Andrew Pratt Funeral Director 306-693-4550.
Magic Wand

We wish we had a magic wand
To make it go away;
We'd wave our scepter over you
Until you were okay.

We'd think good thoughts; We'd send you love;
We'd transmit healing vibes;
Our wand would surely beat
Whatever the doc prescribed.

But there is no magic scepter, so
We cannot cast a spell;
Just know you're always in our thoughts,
And we now know that you are well!