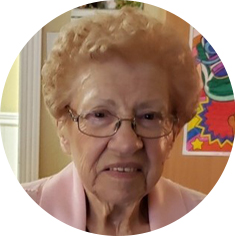 Iris Doreen Watson (née: Akins) passed away on Sunday, December 6th, 2020 at the Dr. F.H. Wigmore Regional Hospital in Moose Jaw, SK with her son Brad at her side.  Iris was born March 14th, 1929 on the farm NE of Hearne, SK.  She was the youngest of ten children who have all gone before her.
Iris started teaching at an early age in the Avonlea area where she met and married Gordon Watson.  Together they were blessed to receive and raise three children – Janice, Daryl and Bradley.  After many great years in the Avonlea area, Iris moved to Moose Jaw where she sang in many choirs and made many new friends.  In 2013 she moved to Crescent Park Retirement Villa where her extended family became so much larger.  Her time there was full of activities and her care was exceptional.  We heard many wonderful stories of the staff and her precious four redheaded girls that came to visit her often.  Thanks again from Brad, Lisa, Don and Sandi to everyone from Crescent Park that took such wonderful care of her.  
She was predeceased by her husband, Gordon; son, Daryl; daughter, Janice; and many other dear family and friends that are now all together sharing a drink and playing some cards.  Iris left to remember her – son, Brad (Lisa); grandchildren: Kristen, Amanda (Tyler) and their mom Angie, Kevin, Jeff and their dad Guy; great-grandchildren, Lexi, and Jax; nephew, Don (Sandi) and their two girls Darian and Peyton who she would giggle and say he is my other favorite son and grandchildren.  There are so many other dear family and friends that will miss Iris but cherish the memories that they had with her.  
A Graveside Service to Celebrate Iris' Life will be held at a later date.  In lieu of flowers, donations in Iris' name may be made to the Allan Blair Cancer Centre c/o Pasqua Hospital, 4101 Dewdney Ave, Regina, SK S4T 7T1.  Arrangements are entrusted to Moose Jaw Funeral Home, 268 Mulberry Lane.  Michelle Ellis, Funeral Director 306-693-4550