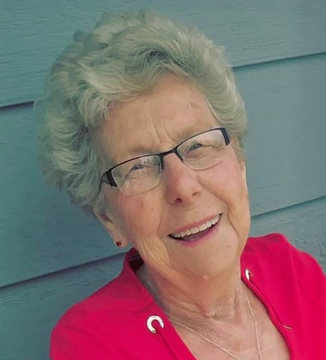 September 1st, 1929 to June 8th, 2023
Ruby Watkins, wife, mother, grandmother, great-grandmother, and friend passed away at her home in Moose Jaw, SK on Thursday, June 8th, 2023.
Ruby was born in Vanguard, SK, daughter of Robert (Bob) and Esther Nelson and sister to Lyle Nelson.  She attended elementary school in Esme and Hazenmore, SK.  After moving to Aylesbury, SK with her family and attending high school, Ruby graduated from Business School in Moose Jaw and was employed as a legal secretary.  She met her husband and life-long partner, Dave A. Watkins in Aylesbury and was married December 10th, 1949.  Ruby and Dave raised their family of three children, David, Chereen, and Lenard and operated a successful farming operation there.  They retired together to their home in Moose Jaw in 1999.  
Ruby was an energetic and involved partner in all that her and Dave took on.  She was active in the community with Home Makers, Eastern Star, Church, and her families many activities.  She loved music and played organ and piano at many church and community functions and family gatherings.  Ruby and Dave enjoyed travelling to many parts of the world in their retirement.  Together Ruby and Dave were always welcoming to neighbours, newcomers in the area, and friends of their children.  Their door was always open.  
Ruby was a well known and loved neighbour to everyone on Taylor Crescent in Moose Jaw over the 24 years she lived there.  She enjoyed young people and helped celebrate birthdays, graduations, and weddings with the kids on her block.  The Grade 1 class at Sunningdale School would come by on special days with their teacher to sing songs on her driveway, exchange gifts, and show their love for a very special lady.  
She was predeceased by her parents, Bob and Esther Nelson; brother, Lyle Nelson; and her husband and life-long love, Dave Watkins.  Ruby is survived and missed by her son, David (Lori) Watkins; daughter, Chereen (Denis) Delage; son, Lenard (Sharon) Watkins; granddaughters: Carly (Mike) Goodwin, Chantal Delage, Danielle Delage, Rhian Watkins, and Kaitlin (Cort) Daku; grandson, Kent Watkins; and great-grandchildren, Isobel Watkins and Alex Watkins.  
We all remember a beautiful and gracious lady who encouraged everyone around her.  We take comfort in knowing that hers was a life lived long and lived well to the benefit of all who knew her.  
A family graveside service at Aylesbury, followed by a gathering in Moose Jaw of family, community, and friends, will be held at a time to be determined later this summer.  In lieu of flowers please consider a donation in her memory to the charity of your choice.  Arrangements are entrusted to Moose Jaw Funeral Home, 268 Mulberry Lane.  Cara Ashworth – Intern Funeral Director 306-693-4550