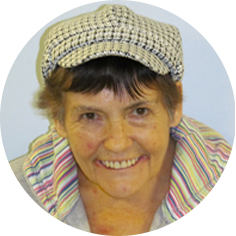 Warren–  It is with great sadness that we announce the passing of Lorraine Warren (Novak) of Moose Jaw, Sk. on May 10th, 2012 at the age of 57 years.  Lorraine passed away peacefully surrounded by her family.  She was born on April 17th, 1955 in Neudorf, SK.  Lorraine is predeceased by her brother Delbert in infancy in 1957; her father George Novak in 1997 and her twin sister Loretta in 1998.  Lorraine will be forever remembered by son Darcy and grandson Xavier of Regina; her mother Emily Novak of Melville, SK.; sisters and brothers: Dennis Novak (Joyce) of Melville, SK., Gayle Squires (Sid), Merv Novak (Wendy), and DarrelNovak (Shauna) all of Moose Jaw; Paula Hernando (Dario) of Ontario; numerous nieces, nephews, friends and her very special little dog Molly.  Lorraine's determination and courage to live in spite of her illness was admirable to all who knew her.  Lorraine was a free spirit, enjoying her time outdoors.  She had a special place in her heart for all animals.  Although she had to overcome many life challenges, in the end Lorraine's comfort came from her family and close friends.  She will be sadly missed by all.  The Funeral Service will be held on Tuesday, May 15th, 2012 at 10:00 a.m. in Moose Jaw Funeral Home (268 Mulberry Lane, Moose Jaw, SK.) with Pastor Marvin Seaborg officiating.  Visitation for family and friends will be held on Monday, May 14th, 2012 from 7:00 – 8:30 p.m. in Moose Jaw Funeral Home.  She will be laid to rest at St. Henry's Cemetery, Melville, SK., on Wednesday, May 16th at 2:00 p.m.  Anyone who wishes, visitation will be held at 1:00 p.m. at Matthews Funeral Home, Melville, SK.  Memorial donations may be made in Lorraine's memory to the Canadian Cancer Society, 61B Ross St. W., Moose Jaw,SK. S6H 2M2 or the Moose Jaw Humane Society, Box 1658 Station Main, Moose Jaw, SK. S6H 9Z9.
We would like to thank Debbie and Darcy McDonald for all their care and compassion they showed Lorraine right until the end.  Our family will be forever grateful to you.  We would also like to thank the staff at Providence Place, St.Anthony's wing for their care and compassion.
Arrangements are entrusted to Moose Jaw Funeral Home, 268 Mulberry Lane.  Calvin Gammel, Funeral Director. 693-4550.