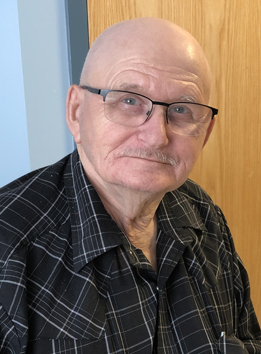 December 18th, 1945 – May 6th, 2022
It is with great sadness that we announce the passing of John Wallman.  He passed away peacefully on Friday, May 6th, 2022 with his children by his side.  John was born in Tisdale, SK to Annie and Jacob Wallman and was the third youngest of 14 children.  Through his working years John was a carpenter and a jack-of-all trades.  For many years he worked alongside his brothers, Walter and Bruce, taking on projects from building decks to houses.  He wasn't afraid of hard work and was proud of his accomplishments.  In his retirement years John enjoyed gardening, tinkering in his workshop and looked forward to his annual "vacation" to help Liz and Jim with their many renovation projects.
A gentle soul with a mischievous twinkle in his eye, John enjoyed spending time visiting with family and friends, playing cards, listening to the stories on coffee row, and travelling the back roads around the Tisdale area listening to old country music.  He loved to fish and seldom turned down an opportunity to head out with his younger brother Lyle or father-in-law Charlie to see what they could catch at Tobin Lake or on the North Saskatchewan River.
John will be fondly remembered by his children, Liz (Jim) Allen of Moose Jaw, SK and David (Sandra Ledoux) of Regina, SK; grandchildren, Brandon and Nikki; sisters, Rose Williams and Tilly Beach; as well as several nieces, nephews, cousins, and many special friends.
The family gives their heartfelt gratitude to the nurses and staff of St. Anthony's wing at Providence Place in Moose Jaw for the excellent care and compassion provided over the last four years.  
In keeping with John's wishes, a Celebration of Life will take place in Tisdale later this year.  In lieu of flowers, donations in John's name may be made to Kinsmen Telemiracle Foundation, 2217C Hanselman Court, Saskatoon, SK S7L 6A8.  John faithfully watched the annual fundraiser and liked to hear the stories of people who were touched by this charity.  In his later years Telemiracle was there to provide him with a scooter when his mobility became a struggle.  Arrangements are entrusted to Moose Jaw Funeral Home, 268 Mulberry Lane.  Michelle Ellis, Funeral Director 306-693-4550