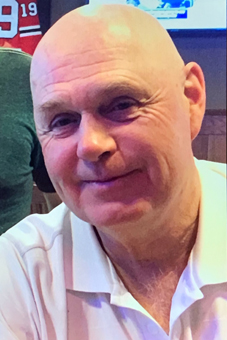 Gregory Maurice Wallace, aged 74 years of Moose Jaw, SK passed away peacefully on Sunday, December 12th, 2021 at the Dr. F.H. Wigmore Regional Hospital.  
Greg attended King Edward Elementary and Riverview Collegiate Institute in Moose Jaw, then worked in several jobs for a few years before moving to Calgary, AB for work.  He returned to Moose Jaw in 1971 to work on the CPR, following in the steps of his father and grandfathers.  He retired from the CPR as a conductor in 2004.
Greg coached minor football and ladies broomball, and was an expert dart player representing Saskatchewan numerous times at provincials and nationals.  He was also an avid fan of golf, even making his first hole in one this past summer.  Greg was also a long-time hockey player, playing with the Calgary Royals and the Crusty Canucks.  Greg was a long-time member of the ANAVETS, Eagles and Elks, and a member of the Legion.
He was predeceased by his mother and father, Ella and Bill Wallace, also of Moose Jaw.  Greg is survived by his wife of 40 years, Barb; son, Jamie (Amanda); daughter, Connie (George); son, Curtis (Pamela); granddaughters, Kirsten and Kyra; and brother, Terry (Carol).  In addition, Greg will be missed by a large extended family.
Due to Covid restrictions, the family will hold a Private Interment Service.  A celebration of Greg's life will take place at a later date.  Flowers are gratefully declined.  Anyone wishing to honour Greg's memory may make a contribution to the charity of their choice.  Arrangements are entrusted to Moose Jaw Funeral Home, 268 Mulberry Lane.  James Murdock, Funeral Director 306-693-4550