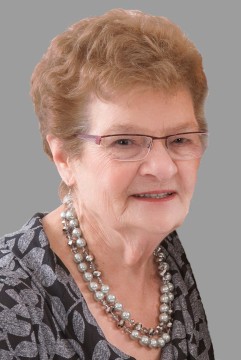 Anne Walker, a long-time resident of Moose Jaw, SK passed away on Wednesday, September 27th, 2023 at the age of 91 years, having outlived a terminal cancer diagnosis by more than 40 years.
Being the oldest of nine children, Anne was raised with a strong work ethic.  She moved to Moose Jaw to take a secretarial course then worked at various Moose Jaw businesses including the PFRA, Co-op, Zellers, and Leonard Fysh Drug Store.  Her real love was her family.  Whether it was her parents, siblings, her own children (and their partners), nieces and nephews, or later on, her grandchildren, she always put them first.  Anne and Wally were also active members of Minto United Church, avid gardeners, long time members with the Optimist Club, and routine attenders of any and all sporting and cultural events.
She was predeceased by her husband of 58 years, Wally; son-in-law, Joe; grandson, David; parents, Arthur and Grace; brothers, Peter and George; brother-in-law, Jim; and niece, Pamela.  Anne will be missed by her children: Bruce (Fern), Terry (Brenda), and Brenda; grandchildren: Janna (Rayden), Kaitlin (Ryan), Shelby (Iva), Brett (Ryann), and Jamie; great-grandchild, Penelope; as well as her sisters, brothers, nieces, and nephews.
A Celebration of Anne's Life will be held on Friday, October 6th, 2023 at 1:00 p.m. in Moose Jaw Funeral Home.  Reverend Jim Tenford will officiate and interment will take place at Sunset Cemetery.  Those not able to attend may view the service virtually by going to www.moosejawfuneralhome.com/webcast/.  As an expression of sympathy, donations in Anne's name may be made to the Cabri Hospital Auxiliary, Box 104, Cabri, SK S0N 0J0 or a charity of one's choice.  Arrangements are entrusted to Moose Jaw Funeral Home, 268 Mulberry Lane.  Michelle Ellis, Funeral Director 306-693-4550