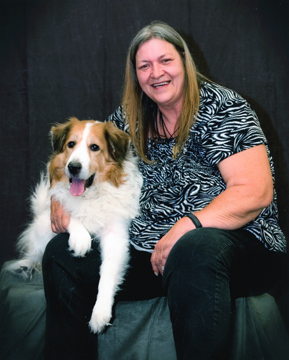 It is with deep sadness that we announce the passing of Connie Andrea Vibe (Andy) on Tuesday, July 12th, 2022 at the Regina General Hospital.  Andy, as she preferred being called, passed away peacefully with her friend and caregiver by her side.
Andy was born in Saskatoon on October 16th, 1954.  She was predeceased by her parents, Christian Koford Vibe and Dora Marie Josephsen; Father-in-law, Roman Gebauer; niece, Loralee Schedlosky (deceased).  Andy is survived by her brother, Peter of Edmonton, AB; nieces, Sandra and Keri Vibe of Edmonton, AB; special friend and spouse, Glenn Gebauer of Moose Jaw, SK; Mother-in-law, Margaret Gebauer;  Sister-in-law, Colleen Schedlosky; Brother-in-law, Kevin (DeeDee); nephews, Wesley (Christine) and children Zoey and Colin; Raymond and family; Aunt, Maxine Pomedli (Ed Keen); Cousins, Susan and David Pomedli; Cousin, Villy Vibe from Denmark; long-time friend, Doug Johnson; as well as her friend, "Big Sis" and caregiver for over 15 years, Vicki Mayer.
In 2004, Andy and Glenn were joined in a lovely and traditional handfasting ceremony in the presence of family and friends.  The handfasting ceremony expressed their love for each other and their love for The Society for Creative Anachronism (SCA), a group dedicated to the creative re-enacting and the researching of the Middle Ages.  Andy enjoyed socializing and rapier while Glenn enjoyed the heavy fighting.
Andy had a varied career over the years which included Salmon Fishing in the waters off the coast of Port Alberni, BC, cook at the Regina Inn, security guard at Government House in Regina, and taxi driver for the CP Rail Moose Jaw yard.
Andy enjoyed crocheting and knitting.  The last project she was working on was crocheting roses for cancer patients.  She would always crochet items for other people – nurses at the Dr. F.H. Wigmore Regional Hospital and Regina General Hospital among others.
Andy was very fond of animals.  There was always one, and most times 2 dogs that were considered family members.  Some of the dogs that were a part of her life were rescue dogs.
A special thanks to the nurses and doctors at the Regina General Hospital, Dr. F.H. Wigmore Regional Hospital, and the Crestview Clinic in Moose Jaw for their care, kindness and compassion.  A very special "Thank You" to Dr. T. Bhanu Prasad, Regina, for his exceptional care, kindness and compassion over the past 10 years.  
Andy will be missed by all of us who were lucky enough to have her in our lives.
A Funeral Mass will be celebrated on Friday, August 12th, 2022 at 11:00 a.m. at Church of Our Lady, 566 Vaughan St, Moose Jaw, SK. Father Carlos Jimenez will officiate with Father Joaquin (Jake) Ibay concelebrating.  Those not able to attend are able to view the service virtually by going to https://youtu.be/U5qGWGMWkMs.  Interment will take place at Hillcrest Memorial Gardens in Saskatoon, SK on Thursday, August 18th, 2022 at 2:00 p.m.  In lieu of flowers and as an expression of sympathy, donations in Connie's name may be made to the Church of Our Lady Catholic Women's League (CWL) or to the Regina Humane Society, 79 Armour Road, RM of Sherwood Park, SK S4K 0A8.  Arrangements are entrusted to Moose Jaw Funeral Home, 268 Mulberry Lane.  Gary McDowell, Funeral Director 306-693-4550.