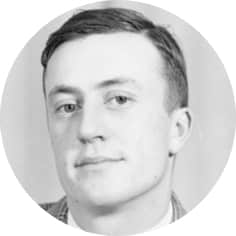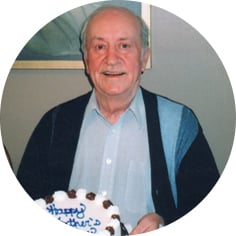 – A Long Life Well Lived –
MAURICE LOUIS (Mo) VEILLARD
March 18th, 1926 – November 3rd, 2019
Maurice was predeceased by his parents, Angele and Louis Veillard; his sisters and brothers-in-law: Helen and Louis Godin, Yvonne and Roland Alain, and Therese and Art Lamontagne; his granddaughter, Louise Veillard; and of course many of his friends and peers.
He will be missed by his wife of 70 years, Maxine; children: Valerie (Bob Eaton), Greg (Pam Sargent), Mo (Colleen Rudd), Colette (Dave Krawczyk), and Nolin (Holly); eleven grandchildren and nine great-grandchildren; and Maxine's brothers, Bruce (Marg) Griffiths and Gerry (Grace) Griffiths.
Dad leaves a legacy of love and laughter.  He laughed a lot and made others laugh a lot.  He was legendary for his unique sense of humor.  His ability to remember jokes and draw on them (frequently) in a timely fashion was an incredible gift.  He was always remembered by those who met him!
As a younger man, Dad worked in a variety of jobs, including being a grain buyer and railway employee, followed by several years as a traveling salesman.  He and Mom became best known for the stores they ran together: "Mo and Mac's" Caribou Grocery in Moose Jaw, and Mo and Mac's Red and White in Hawarden. Working together for 25 years, they were an awesome team.  They then enjoyed a 25 year retirement back in Moose Jaw.
The family would like to extend a heartfelt thanks to Home Care and Hospital personnel, and to the staff at Pioneers Lodge for their compassionate care in recent months.
A Celebration of Life will be held at Moose Jaw Funeral Home (268 Mulberry Lane) on Sunday, November 10th, 2019 at 1:00 p.m.
In lieu of flowers, memorial donations may be made in Maurice's name to Canadian Tire Jumpstart (helping financially disadvantaged youth participate in sport and recreation).  *FORMS will be available at the Celebration of Life Service, the Kinsmen Sportsplex, or City of Moose Jaw Parks and Recreation Department.
Those wishing to do so may send messages to the family through the Moose Jaw Funeral Home website.
Arrangements are entrusted to Moose Jaw Funeral Home, 268 Mulberry Lane.  Andrew Pratt Funeral Director 306-693-4550