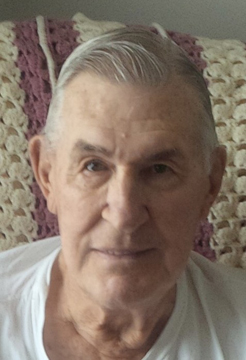 On Tuesday, December 20th, 2022 Stanley Harold VanTassel passed away peacefully at the age of 89 years at Pioneer Lodge in Moose Jaw, SK.
Stan was born in Digby, NS on February 25th, 1933.  Throughout school he enjoyed playing basketball and lead the high school basketball team to their only Provincial Championship victory.  He was later inducted into the Digby Hall of Fame for his basketball success.  During the summers he worked at the Digby Pines Golf Course.  
Before joining the RCAF, Stanley trained as a plumber in Sydney, NS.  He then served in the Canadian Armed Forces throughout Canada, France, and Germany for 29 years when he retired as a Warrant Officer.  From there he worked at Canada Employment Insurance until retiring to fill his days with family, music and golf.
The love of his life, Yvonne Gray, became his wife on June 23rd, 1956 at Zion United Church in Moose Jaw. They were married for 66 years.
He was predeceased by his parents.  Stanley is survived by his wife, Yvonne; children, Lenise (Laurie) Mang and Bryan (Candra) VanTassel; grandchildren: Nathan (Sara) Mang, Natasha Mang (Dave Vranch), Danett VanTassel (Chirag Kumar Patel), Bryce VanTassel, and Karstin VanTassel; great-grandchildren: Charles Mang, Heidi Mang, Callie Siegner, Julia Mang, and Kara Siegner; and sisters, Bernice (Cliff) Sandeson and Anna VanTassel.
The family would like to thank the staff of Pioneer Lodge for the wonderful care they provided Stan during the last months of his life.  They would also like to thank the staff at Moose Jaw Funeral Home for their help and compassion with laying Stanley to rest.
A Private Family Service will be held at a later date.  Arrangements are entrusted to Moose Jaw Funeral Home, 268 Mulberry Lane.  Andrew Pratt Funeral Director 306-693-4550