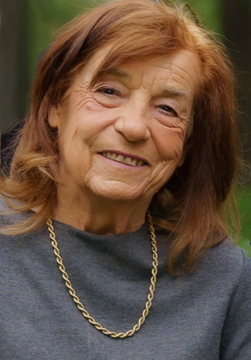 On Wednesday, January 11th, 2023 Joanne Evelyn Van Slyck, beloved wife, sister, mother, and grandmother, passed away peacefully in her home.  She was seventy-one years of age.
Joanne was born in the General Hospital in Regina, Saskatchewan to parents Fred and Beulah Schroeder, and was raised in Chamberlain, SK.  She graduated from high school in Holdfast, SK and then received a Business Diploma from STI in Moose Jaw, where she was crowned table tennis champion of 1971, and met her husband, Rod.  This past September marked their 50th wedding anniversary.
Active on the board of the Moose Jaw Cultural Centre, Joanne had a life-long love of art.  An avid collector, she was also an artist herself, focusing her talents on watercolour painting.  Often, she was to be found in her library with a book and a coffee, as she was a voracious reader.  She also loved traveling and spending time with her family near the water at either Lovering Lake, Lake of the Woods, or Huatulco, Mexico.
She was predeceased by her parents, Fred and Beulah; and niece, Chantal.  Joanne is survived by her loving husband, Rod; son, Judd and his twin boys Charlie and Freddie; daughter, Kristy and her son Lucas; brothers, Terrance and Frederick; and sister, Wendy (Calvin) and their son Shawn.  
The Funeral Service will be held on Thursday, January 19th, 2023 at 5:00 p.m. at Zion United Church, 423 Main St N, Moose Jaw, SK followed by a celebration of her life next door at the Grant Hall.  As an expression of sympathy, donations in Joanne's name may be made to the Chamberlain Cemetery Fund, Box 2, Chamberlain, SK S0G 0R0.  Arrangements are entrusted to Moose Jaw Funeral Home, 268 Mulberry Lane.  Gary McDowell, Funeral Director 306-693-4550