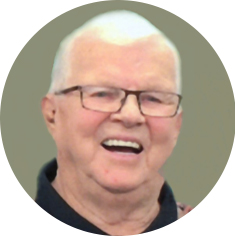 VALENTINUS "NORMAN" VALGARDSSON
October 15th, 1935 – October 10th, 2020
On Saturday, October 10th, 2020, Norman Valgardsson, husband, brother, father, grandfather, and great-grandfather, passed away five days before his 85th birthday.
Norman was born in Moose Jaw, SK and did his schooling in Moose Jaw, attending Ross School, Central Collegiate, and A.E. Peacock Technical High School.  Norman also took a short course in agriculture at the University of Saskatchewan, then started his career in iron working.  Within a few years, he began his lifelong love of farming.  He was always proud of contributing to feeding the world.  Norman married Joanne Mae Morrison on November 29th, 1957.  Celebrating 62 years of marriage, they have three children: Todd, Tracy and Val.  
He was predeceased by his parents, Valentinus and Thora Valgardsson; in-laws, Ed and Cora Morrison; brothers-in-law, Stan Walter and Dale Clarke; and daughter-in-law, Candie Finlayson.  Norman will be lovingly remembered by his wife, Joanne; son, Todd (Arlene); daughter, Tracy (Gary) Enns; youngest son, Val (Mayda); grandchildren: Mary-Jo Schulties, Jennifer (Mason) Charters, Trisha (Dan) Glasser, Sasha Valgardsson, Alexis Valgardsson, Adrian (Adine) Enns, and London (Itoah) Enns; great-grandchildren: Sierra Schulties, Madison Charters, Mitchell Charters, Van Glasser, Dane Glasser, Jase Glasser, and Setiya Enns; and sisters, Kristine Walter and Avis Clarke.  Norman will also be forever remembered by his numerous nieces, nephews, extended family and dear friends.
Norman's family would like to thank the staff of the Raphael Wing at Providence Place, Dr. Mark Brown, and Dr. Sanderson for their love and care for Norman.
Due to the current health situation, a Private Family Service will be held.  As an expression of sympathy, donations in Norman's name may be made to Providence Place Foundation Inc, 100 – 2nd Ave NE, Moose Jaw, SK S6H 1B8 or to a charity of one's choice.  Arrangements are entrusted to Moose Jaw Funeral Home, 268 Mulberry Lane.  James Murdock, Funeral Director 306-693-4550