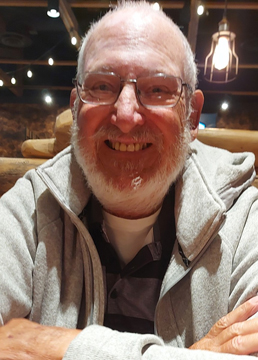 It is with great sadness that we regret to announce the passing of Robert "Bobby" Turnbull on Thursday, July 28th, 2022.  Bob was born on Oct 20th, 1944 in Halifax, Nova Scotia to William John Turnbull and Candace "Nee" Thompson, a brother to John Turnbull (Eloise Turnbull) and Jean (Ron) Glubis (née: Turnbull).
He was predeceased by his wife of 53 years, Barbara Turnbull in 2020; and sister, Jean Glubis in 2017.  Bob is survived by his daughter, Terri-Lee Tilley; son, Robert William Llewellyn Turnbull; brother, John Turnbull; grandchildren: Amelia Tilley, Grace Tilley, Noelle Turnbull and Ian Turnbull; great-grandchildren, Clark and Myra Young; son-in-law, Steven Tilley; as well as many nieces, nephews and cousins.
As a young man Bob grew up in various locations throughout Saskatchewan and in 1963 he traded the plains of Saskatchewan for the Oceans of the world when he decided to enlist in the Canadian Armed Forces (CAF), in particular the Royal Canadian Navy (RCN).  While on a posting to Montreal, Quebec Bob attended a social where he met the love of his life, Barbara, and in 1967 they were married until Barbara's passing in 2020.  Bob's two other loves of his life were his children, Terri born in 1969 and Robbie in 1971. 
Bob's time in the RCN led him and his family on many postings from coast to coast with stops in between. His love of the Navy was abundant due to the innumerable amount of lifelong friendships that only the CAF could provide.  Bob retired from the CAF in 1996 after 33 years of service to his Country.  
Upon retirement, Bob and Barbara settled down in Moose Jaw, the city he loved, and Bob was an active participant in the community.  He was a St. John's Ambulance Instructor and travelled the province of Saskatchewan for years teaching first aid as well as instructing advanced first aid to other instructors of the institution.  As an avid (to say the least) golfer and curler, Bob joined the Lynbrook Golf Club.  This was his second home.  The people of the Lynbrook were his dearest friends and it was truly reciprocal.  
Bob's love and devotion to his family, friends, country and community cannot be understated.  He will be greatly missed but always remembered by all that loved and knew him.  We have been assured that the "BobWich" will always be on the menu at the Lynbrook.
A Celebration of Bob's Life will be held on Sunday, August 7th, 2022 at 1:00 p.m. at the Royal Canadian Legion, 268 High St W, Moose Jaw, SK.  A private family interment will follow at the Moose Jaw Funeral Home Columbarium.  In lieu of flowers, donations in Bob's name may be made to The Canadian Diabetes Association, 919B Albert St, Regina, SK S4R 2P6 or Parkinson Canada, #110B – 2103 Airport Dr, Saskatoon, SK S7L 6W2.
"I am the resurrection and the life.  Anyone who believes in me will live, even after dying." JOHN 11:25
Arrangements are entrusted to Moose Jaw Funeral Home, 268 Mulberry Lane.  Gary McDowell, Funeral Director 306-693-4550