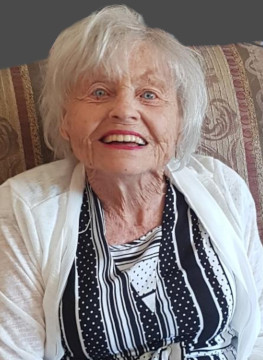 On Tuesday, November 14th, 2023, 9 years to the date of her husband Charles' memorial service, Margaret "Moira" Tunks (our Queenie) went to be with the angels, with her daughter Gaylene by her side.  Moira was born in Lockwood, SK on May 27th, 1925 to Hector and Isobel McKinnon.  She lived on a farm and attended Kneller School, where her mother taught, and then high school in Drake, SK.
Moira made many memories through out her childhood with her siblings, cousins, and neighbours.  She left Lockwood to attend Davidson Business College in Moose Jaw, SK.  Moira worked at the Royal Bank, where she met her husband, Charlie.  On May 1st, 1948 she married the love of her life and she and Charlie resided in Moose Jaw.  She raised 3 children as a stay at home mother and returned to the workforce in 1979 at Woolco, where she made many good friends.
Moira was active well into her 90's.  She was a member of the Lynbrook Golf Course, golfing with the Ladies League, CPR League, and with anyone who called.  She also rode her bike all over Moose Jaw.  Wintertime was spent cross-country skiing, skating, and curling with the Emerald Nifty Fifties and the hospital league.  She also clogged with the Saskatchewan Rythen Cloggers and played duplicate bridge with Sally Horsnall.  When her body started to fail, she joined Aquafit to stay limber.  Moira was also a member of Minto United Church.  Moira and family travelled all over Canada, the US, and Mexico, making many lasting memories.
She was predeceased by her husband, Charles; daughter, Charlene (2023); parents, Hector and Isobel McKinnon; brothers, Angus (Vera) and John; sister, Louise (Jack); infant sister, Kathleen-Shirley; nephew, Neil; and her McKinnon family.  Moira leaves to mourn, her daughter, Gaylene; son, Randall; son-in-law, Daryl; grandchildren: Scott (Karen), Angela (Kevin), and Todd (Savannah); great-grandchildren: Justice, Jonathon, Violet, and Grace; sister-in-law, Joan; her nieces, nephews, and many McKinnon cousins.
The family would like to thank the Moose Jaw Special Care Home, where Moira resided for the last 5 months, for the care and compassion shown to her.  Also, thank you to Dr. Majid, Dr. Sanche, and the staff on the medical unit at the Dr. F.H. Wigmore Regional Hospital, and finally Gaylene's earthly angels.
The Funeral Service will be held on Friday, November 24th, 2023 (her favourite Minot Black Friday shopping day) at 2:30 p.m. in Moose Jaw Funeral Home.  Celebrant Dave Foley will officiate and interment will take place prior to the service in Rosedale Cemetery at 2:00 p.m.  Please meet at the cemetery gates at 1:45 p.m.  As an expression of sympathy, donations in Moira's name may be made to the Kidney Foundation, A3-116 103 Street East, Saskatoon, SK S7N 1Y7.  Arrangements are entrusted to Moose Jaw Funeral Home, 268 Mulberry Lane.  Michelle Ellis, Funeral Director 306-693-4550