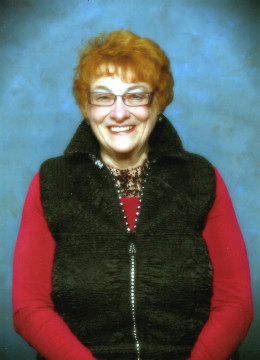 Sharon Jean Trzaskowski aged 76 years of Moose Jaw, SK, passed away on Wednesday, October 11th, 2023.  Sharon was born on May 25th, 1947 to her single mother, Minna Bishop.  
Sharon had three children, Christina, Steven, and Jason while living in Swift Current, SK.  In 1981, she moved to Moose Jaw and started employment with Valley View Centre shortly after.  She worked in many departments, including laundry, housekeeping, and Resident Care.  
At the age of 46, Sharon graduated as a Registered Nurse and was so proud of this accomplishment.  Unfortunately, she was only able to work as a nurse for 2 years due to an injury.  After taking her leave from nursing, Sharon returned to work at Valley View Centre in Reception for 6 years and then in 2011, she retired due to severe arthritis.
The most important thing in Sharon's life was her family.  As she was in a foster home when she was younger, she knew how important a close family was.  Her only wish was that her family lived closer to her.
Sharon had a lot of health challenges during her life and mostly dealt with them as they happened.  Most of the time she tried to not let them get the best of her and just adapted her life to them, but sometimes they got her down.  She fought each new diagnosis with a vengeance and never gave up.  Over the years, Sharon faced many challenges but met them with strength and grace.
Sharon had a dry sense of humour, which helped her through the hard times.  She had some good friends who helped her through multiple illnesses and hospital stays.  She also had help from Chris and Steve, and for many years her sister-in-law Marilyn was there for her whenever she needed her.  Sharon's sister Linda was a great listener and would chat with her for hours, several times a day.
Sharon loved country music and if there was a country music show or Craven Jamboree, she would be there.  Her dream as a young girl was to get to Nashville, and she made it there twice.  Sharon loved the old country music and would read biographies of all her favourites such as Elvis Presley and Johnny Cash.  Sharon also loved her family, reading, music, and her computer.  She always knew what was happening in the world via the newspaper, magazines, etc.  She got her computer later in life as she never thought she would use one, but she soon learned to love it.  Facebook, playing her many games, emailing her friends, surfing for recipes, and You-Tube to listen to her "old" country music provided much entertainment.    Her son Steve bought her a laptop while she was waiting for her hip surgery (one of many) and she really made use of it as she spent a lot of that time recovering.
Sharon would always pass on her favourite recipes that she found on the internet.  One of her favourite hobbies was cooking and making soups.  Not too many weeks went by without a slow cooker of soup on the go, which she mostly gave away to friends and family.  One of her sayings was "Here, try this" when she greeted you at the door.
Sharon especially loved her casino trips with her friends and went on several – even though she was not very lucky!  She and her sister Linda were able to go to Vegas a few times, which they both thoroughly enjoyed, even when Linda had to push her around in a wheelchair!  Sharon loved to travel and went to Mazatlan several times – once with her daughter Chris.  As soon as one of her trips ended, Sharon was busy planning the next – all on the computer, of course.
Sharon always had a cat for companionship.  Her friend, Sharon, would take her most recent companion Callie to her "spa" while she was having one her stays in the hospital.
She was predeceased by her mother, Minna; sister-Linda; brothers, Cliff and Kenny; and nephew, Christopher.  Sharon is survived by her daughter, Chris of Prince Albert, SK; grandchildren: Matthew, Josee and Caiden; son, Steve of Regina, SK; son, Jason of Moose Jaw, SK; brothers, Mervin and John; as well as many nieces and nephews.
Special thanks and appreciation to the staff of the surgical and medical floor of the Dr. F.H. Wigmore Regional Hospital, Dr. AJ Van Heerden, Moose Jaw Home Care, and Moose Jaw EMS.
A Celebration of Sharon's Life will be held on Thursday, November 2nd, 2023 at 2:00 p.m. in Moose Jaw Funeral Home.  As an expression of sympathy, donations in Sharon's name may be made to The Moose Jaw Humane Society, Box 1658 Station Main, Moose Jaw, SK S6H 7K7 or Jim Pattison Children's Hospital Foundation, 1 – 345 Third Ave S, Saskatoon, SK S7K 1M6.  Arrangements are entrusted to Moose Jaw Funeral Home, 268 Mulberry Lane.  Michelle Ellis, Funeral Director 306-693-4550