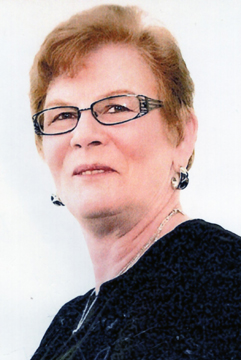 Marion Barbara Ann Trueman
It is with profound sadness we announce the passing of Marion Barbara Ann Trueman, aged 76 years of Moose Jaw, SK on Wednesday, March 8th, 2023.  
Marion was born April 29th, 1946 in Rockglen, SK to Gordon and Anna (née: Pilsner) Scarrow.  She completed her education at Rockglen and moved to Regina, SK in 1966, where she took a Secretarial Course and started her first job at the Robert Simpson Company.  Marion then moved to Calgary, AB and worked for United International Industries, Stearns Roger Engineering Company, and then Alberta Gas Trunk Lines Ltd.  After working in a smaller town in Alberta, Marion later moved to Red Deer, AB to work for Alberta Transportation.  On July 14th, 1984 Marion married William (Bill) Trueman.  After retirement, Marion Became a member of Desk & Derrick Club of Central Alberta and enjoyed travelling to various conventions with the club.      
She was predeceased by her mother, Anna Scarrow; father, Gordon Scarrow; great-niece, Sash Hochlander; and husband, William Trueman.  Marion will be missed by her sisters: Jean (Ken) Hochlander, June Smith (Bill – deceased), and Elaine (Willie) Mazurkewich-Michel; many nieces and nephews, and great-nieces and nephews; and best friend, Annette (Dennis) Hilgarth.
A Private Family Service will be held to honour Marion.  As an expression of sympathy, donations in Marion's name may be made to a charity of one's choice.  
"When I come to the end of the road
And the sun has set for me,
I want no rites in a gloom filled room.
Why cry for a soul set free?
Miss me a little but not too long
And not with your head bowed low,
Remember the love that we once shared,
Miss me…but let me go.
For this is a journey that we all must take
And each must go alone,
It's all a part of the Masters Plan
A step on the road to home.
When you are lonely, and sick at heart,
Go to the friends we know,
And bury your sorrows in doing good deeds,
Miss me…but let me go."
Arrangements are entrusted to Moose Jaw Funeral Home, 268 Mulberry Lane.  Gary McDowell, Funeral Director 306-693-4550