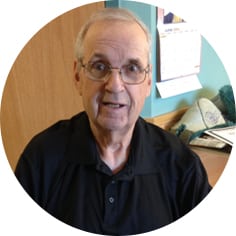 Edward George Tremblay passed away peacefully on October 11, 2019 at Providence Place in Moose Jaw, SK.  With faith in his heart, and rosary in hand, he will be welcomed into his heavenly home. Born in  Courval, SK. on July 9, 1940, the tenth of eleven children, he spent his younger years surrounded by family  and community.  As a teenager, Ed moved to Moose Jaw where he met Faye Hassen  who would be  his wife for 44 years.  They were married on July 9, 1960 and welcomed a daughter, Sandra, in 1961. Ed began his long work career at Providence Hospital before being employed with the Moose Jaw Public School Board.  He was happiest when he was with family and friends.  He spent many hours coaching  on the softball field, later attending events and supporting his grandchildren in all of their activities.  After retirement,  Ed volunteered at Providence Place which continued until his passing.
 Predeceased by his wife, Faye Tremblay (Hassen);  parents Delvina & Joseph Tremblay; brothers Oliver, Reo, Armand, Greg, Bernie & Joseph;  sisters, Julia, Florence & Yvonne. Ed is survived by his daughter, Sandi,   son-in-law Tim;  grandchildren: Warren (Jenna) Kerney,  Allyssa (Robb) Hobbs, Lincoln Kerney, Maddyson  (Kelly) Weber;  great grandchildren Gavin  Kerney and Pearl Hobbs; sister Marg Harris.  He also  leaves  behind numerous nieces, nephews and many friends.
Funeral prayers will be held on Tuesday, October 15,  2019 at 7:00 pm at Church of Our Lady, Moose Jaw.  Funeral Mass will  be celebrated on Wednesday,  October 16, 2019 at 10:00 am at  Church of Our  Lady,  Moose Jaw with  Father Leonardo Tamayo as presiding celebrant.   Interment will be held on  Thursday,  October 17, 2019  at 10:00 am at Rosedale  Cemetery. As an expression of sympathy, contributions  in Edward's name may be made to  Church of Our Lady Building Fund or Diabetes Canada,  919B Albert Street,  Regina, SK. S4R 2P6.  Arrangements are entrusted to Moose Jaw Funeral Home, 268 Mulberry Lane.  Calvin Gammel, Funeral Director 306-693-4550.