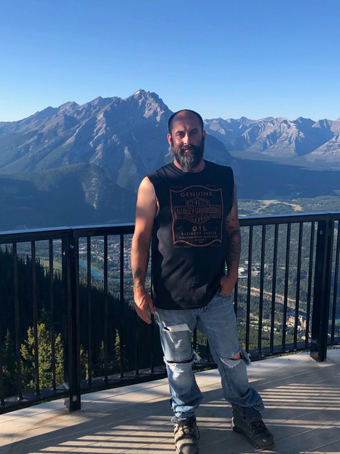 It is with great sadness that we announce the accidental passing of Eric Rene Tourond on Thursday, July 1st, 2021 at the age of 36 years. 
Eric was born September 28th, 1984 in Birtle, Manitoba, the son of Rene Tourond and Glenda Still.  Eric spent his life in many different places, where he met many lifelong friends.  At the young age of 16, Eric began to work road construction where he would continue his love for running heavy equipment throughout his entire adult life. 
After meeting his partner Courtney in 2013, Eric, Courtney and Courtney's daughter Jade moved to Moose Jaw in 2014, where they would welcome their two sons Dillon and Waylon.  In 2019, Eric saw an opportunity to buy a home for his family in Central Butte, SK.  Eric always enjoyed the small town and country life, which is how he grew up. 
Eric had a real passion for hunting, fishing, riding his motorcycle, and tinkering on engines with his Grandpa Still.  Eric enjoyed hunting with not only his buddies, but also spent many hours bear hunting with his dad, brother and late Grandpa Tourond "Papa".  The lake was Eric's favorite place to be anytime of the year.  Whether he was ice fishing or out on the boat with his family and friends that is where you would find him. 
The only thing Eric loved more than fishing was his kids.  Eric spent the majority of his free time fishing, camping, hunting or just being outside with his kids.  When he wasn't able to be with them, you can guarantee he was talking about them.  One memory that Eric valued and talked about often was when he took his two sons hunting for Moose last fall.  This was a successful hunting trip for the three of them.  Eric was not only an outstanding father, but he was a proud one too! 
Eric is survived by his partner, Courtney; children: Damien, Morgan, Erica, Isaac, Dillon, and Waylon; and his step-daughter whom he loved as his own, Jade.  He will also be lovingly remembered by his parents, Rene Tourond and Glenda Still (Glenn); brother, Edward (Amanda); sister, Stephanie (Landon), Lyam and Levi; grandparents: Angela "Mama", and Glen and Margaret; as well as many aunts, uncles, cousins, nieces, nephews and friends near and far. 
Arrangements for a Celebration of Eric's Life will be made at a later date.  In lieu of flowers, donations in Eric's name may be made to HEART Team Inc. Box 819 Morris, MB R0G1K0.  Arrangements are entrusted to Moose Jaw Funeral Home, 268 Mulberry Lane.  Gary McDowell, Funeral Director 306-693-4550