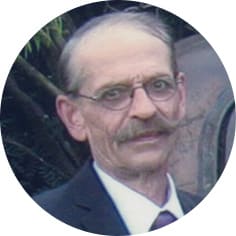 Jerome Jacob Toni, aged 65 years of Moose Jaw, SK passed away peacefully at home on Friday, May 8th, 2020.  Jerome was born June 4th, 1954 in Spring Valley, SK to Sebastian and Eva Toni.  
He was predeceased by his grandmother, Mary Leugner (1994); grandfather, Jacob Leugner (2000); father, Sebastian Toni (1991); sister, Patricia Anderson (2009); and brother-in-law, Randy Anderson (2010).  Left to mourn Jerome's passing are his daughter, Sadye (Jason) Tkachuk; grandchildren: Paige, Jes, Bohdan, Porter and Eli of Moose Jaw; daughter, Melissa (Pat) Anaka of Central Butte, SK; grandchildren, Emily (John) Anaka of BC and Abby Seida; mother, Eva Toni of Moose Jaw; sister, Diana (Bryan) Murphy of Chilliwack, BC; brother, Randy Toni of Moose Jaw; the mother of his children, Cathy Anaka of Victoria, BC; as well as numerous nieces, nephews, aunts, uncles and cousins.
Jerome attended school at St. Agnes and Vanier Collegiate in Moose Jaw, as well as completing his secondary education at Carpentry school in Estevan, SK.  Once Jerome received his diploma, he went to work with his father with The Carpet Kings, which led to Jerome's passion for carpentry and construction.  Over the years he worked for many local construction companies.
Jerome had many interests from his younger years including the Thunder Creek 4X4 club, which led to him traveling with the club and being on the top of the list along with the many vehicles that he owned.  Jerome was an outdoors kind a guy.  Camping was also something that bought joy to his life.  He loved the lake and spending time with friends at their cabins.  Needless to say that once his parents purchased a cabin at Buffalo Pound Lake, he was beyond happy.  Over the years he spent as much time possible there with family and friends and helping his mother.
Also left to mourn his passing are some close friends that have always been there for him: Mel and Holly Wood, Wayne and Leslie Handfield, along with special friend Steve Keal, and many more with too many to mention.
Due to the current health situation, a Private Family Service will be held at a later date.  As an expression of sympathy, donations in Jerome's name may be made to the Heart and Stroke Foundation of Saskatchewan, Unit 26 – 1738 Quebec Ave, Saskatoon, SK S7K 1V9.  Arrangements are entrusted to Moose Jaw Funeral Home, 268 Mulberry Lane.  James Murdock, Funeral Director 306-693-4550