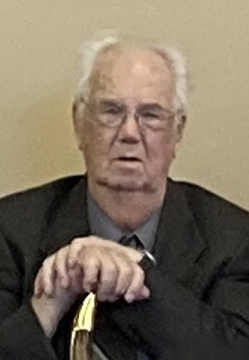 VERNON THEODORE TONDEVOLD
It is with great sadness we announce the peaceful passing of Vernon Theodore Tondevold aged 90 years of Moose Jaw, SK, on Thursday, May 25th, 2023, with his family by his side.
Vernon was born in Bures, SK on the family homestead.  He met Doris Lockhart and they were married in 1953, raising their five children, Valorie, Craig, Kevin, Twyla, and Daphne, in Moose Jaw.  He worked at Valley View Center until his retirement in 1987.  Vernon and Doris purchased Tower Lodge at Dore Lake, SK and ran the lodge for eight years.  After retiring from the Lodge, they built a cabin at Dore Lake.
He was predeceased by his wife, Doris; daughter, Valorie; grandchildren: Michelle, Darby, Brennon, and Jeremy.  Vernon is survived by his children: Craig (Debbie), Kevin, Twyla, and Daphne (Carey); 13 grandchildren; 29 great-grandchildren; 2 great-great-grandchildren; brothers and sisters: Raymond, Gloria, Jerry, Mardel, Sid, and Rodney; as well as many in-laws, nieces, and nephews.
This is a path that only you can travel, alone for now but not for long.  The whispers in the wind tells me that loved ones are waiting.  Jesus says run my child into the arms for there is still work to be done.
We will always love you and miss you.  Good-bye for now, until we meet again.
A Celebration of Vernon's Life will be held on Thursday, June 1st, 2023 at 1:00 p.m. in the Harvey Room at Moose Jaw Funeral Home.  Those not able to attend may view the service virtually by going to www.moosejawfuneralhome.com/webcast/.  Flowers are gratefully declined.  As an expression of sympathy, donations in Vernon's name may be made to a charity of one's choice.  Arrangements are entrusted to Moose Jaw Funeral Home, 268 Mulberry Lane.  Cara Ashworth – Intern Funeral Director 306-693-4550