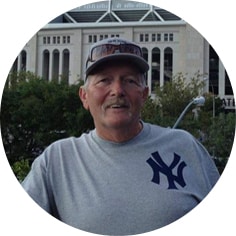 Thomas Peter Thul, born January 18, 1947 in Moose Jaw, hailing from Marquis passed away peacefully surrounded by his family on August 28, 2019. Tom was predeceased by his mother Olive, his brother Bill, his father and mother-in-law Mike and Bernice Knapik, brother-in-law Gerald and sister-in-law Barbara. 
Tom is survived by his loving wife, Phyllis (nee Knapik), married 49 years on August 1.  Tom is lovingly remembered by his children and grandchildren: Lana (Kellie) Knoll, Hawa, Onawa, Rasa and Solomon; Pamela Thul, Olivia and Aliyah; Tracey (Shawn) Crockford, Tristen, Keana and Talen; Gregory (Kristy Straub) Thul, Madison, Saige, Noah and Scout; Jeffrey (Angela) Thul, Owen and Lincoln. He is also survived by his father, Jack Thul; his siblings Dorothy, Linda, Barb, Brenda, Helen, Donna, Grant, Jackie and Rhonda; his in-laws Carole, Trudy and Larry and their spouses as well as numerous nieces and nephews.
Tom's biggest love in life was his wife and family, there were not many times he was seen without his children in tow, and later his grandchildren.  He was an avid hunter and fisherman, and an accomplished sportsmen throughout his life. Tom was a huge sports enthusiast, particularly when it came to his Yankees and Canadiens.
We will be celebrating Tom's life at the Cosmo Senior Centre, 235 3rd Avenue NE, on Saturday, August 31, 2019 from 2-4 PM. Please come to share your memories with us. In lieu of flowers, please make donations in Tom's memory to The Kidney Foundation of Canada #1 – 2217 Hanselman Court Saskatoon, SK S7L 9Z9, or the Moose Jaw Wildlife Federation, PO Box 1286 Moose Jaw, SK S6H 2M2. Cash donations will go toward a fishing derby prize in Tom's honour. Arrangements are entrusted to Moose Jaw Funeral Home, 268 Mulberry Lane.  James Murdock, Funeral Director 306-693-4550