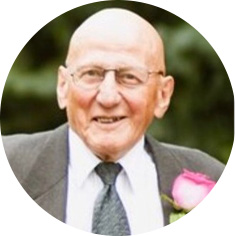 It is with great sadness that we announce the peaceful passing of John Thomas "Jack" Thul on Tuesday, May 26th, 2020 at the age of 95 years.  
He was predeceased by his wife, Olive; and sons, Bill and Tom.  John is survived by nine of his children: Dorothy (Al), Linda, Barb (Ralph), Brenda (Aubrey), Helen (Del), Donna (Philip), Grant, Jackie (Doug), Rhonda (Jeff), and daughter-in-law, Phyllis; his grandchildren, great-grandchildren and great-great-grandchildren; brother, Duane (Nola); and sister, Deanna.  John and Olive loved living in Marquis, SK as it was a community of friends and a great place to raise their 11 kids.  In his early years, John enjoyed working for Amil Sagal at Sagal Bros Garage.  He married Olive Forsyth of Lake Valley, SK in July 1945 and started work that year at Richardson Pioneer Grain, where he spent 42 years until his retirement in 1987.  In 1965, he was able to start buying land and do the farming that he loved.  John was an active member of his church and community, as an organizer and fundraiser.  He loved sports and enjoyed fishing, hunting, curling, playing baseball and coaching the boys' ball team for 17 years.  After retirement and moving to Moose Jaw, John and Olive continued their love of opening their home to family and friends for gatherings and playing cards.  John would give the shirt off his back to anyone in need.  He loved going to the YMCA every day and even won a Western Canadian Weight Lifting Championship while in his 80's.  In recent years, he loved spending time with his family and enjoyed teasing his grandchildren and cheering them on at their many sporting events.  John will be fondly remembered for his many sayings.  Two of our favourites are:
"Keep 'er between the ditches" 
"Keep me in mind"
In keeping with John's wishes, a Private Family Graveside Service will be held.  Our sincere thank you to Extendicare and Providence Place for the caring and kindness they gave to Dad.  As an expression of sympathy, donations in John's name may be made to the Moose Jaw Health Foundation, 55 Diefenbaker Drive, Moose Jaw, SK S6J 0C2.  Arrangements are entrusted to Moose Jaw Funeral Home, 268 Mulberry Lane.  Michelle Ellis, Funeral Director 306-693-4550.