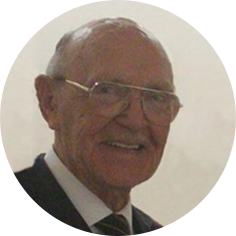 Leslie William Threadgill, born June 15th, 1923, passed away peacefully on Thursday, August 30th, 2018 at the age of 95 years.  Leslie was born in London, England and had a successful, fulfilling career as a police officer after having served in the Royal Berkshire Regiment through WWII and up to 1950.  He gave his all to his family, giving us all a solid foundation on which to move forward now together, making family first and foremost.  Leslie will be lovingly remembered "always and forever" by his daughter, Sarah Bittles (John Gabel); son, Paul Harris (Kathy); step-daughter, Susan; grandchildren: Emma (Scott), Ashley (Shelby), James (Cindy), Stella, and John; great-grandchildren: Kennedy, Kendall and Jeffery, Abel and Shilo, William and Sam; special friends: Nichola and Iain Taylor and their daughter Elize; and extended family, Terry Bittles (Sandy).
"Rest now Dad, with our love always and forever with you."
…Sarah xx
In keeping with Leslie's wishes, a Private Family Service will be held at a later date.  As an expression of sympathy, donations may be made to Parkinson Canada, 610 Duchess St, Saskatoon, SK S7K 0R1 in memory of Beryl Threadgill.