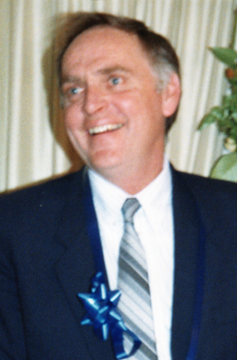 William (Bill) Inkerman Thomson
William (Bill) Inkerman Thomson was born in Owen Sound, ON on October 8th, 1937 and passed away peacefully at home in Moose Jaw, SK on Wednesday, November 2nd, 2022.  Bill was the beloved husband of Kathleen (née: Weare) for 21 years and favored best friend to his baby sister Sue Thrush (Ken) of Acton, ON.  He was predeceased by his sister, Sandra (Gary Mercer); twin sister, Margo Durkson (Doug); and brother, Tom (Rose.  Bill will always be remembered by his 3 children and 4 grandchildren, as well as by Kathleen's 3 children, 2 grandchildren, and 4 great-grandchildren.  
Bill had many careers in his life and always attacked them with great enthusiasm, as he exercised his great humor – the family hardware store established in 1888 gave him great pride, a salesman for Modern Housewares travelling in Northern Ontario, Radio and Talk Show host for 10 years, scrap metal expert during his year and a half in England, selling insurance, as well as chairing the Owen Sound Jaycees and serving on the Owen Sound Council.
At age 50, God called him into the ministry and he truly enjoyed his charges in Shallow Lake, ON and then in Saskatchewan at Rockenville, Esterhazy, and Moose Jaw at Trinity United Church.  He retired in 2013 due to his declining eyesight.  
In 2010 Bill and Kathleen started their own Tour Company, Let's Go Tours.  They travelled many, many miles in Canada and the United States.
The Funeral Service will be held on Saturday, November 19th, 2022 at 1:30 p.m. in Moose Jaw Funeral Home with Pastor Dave Moore officiating.  Those not able to attend may view the service virtually by going to www.moosejawfuneralhome.com/webcast/.  As an expression of sympathy, donations in Bill's name may be made to the Gideon International Society, PO Box 3619, Guelph, ON N1H 7A2 or to a charity of one's choice.  Arrangements are entrusted to Moose Jaw Funeral Home, 268 Mulberry Lane.  Gary McDowell, Funeral Director 306-693-4550